SU's Pub Night @ the Library Celebrates Faculty and Staff Research and Service
Friday March 29, 2019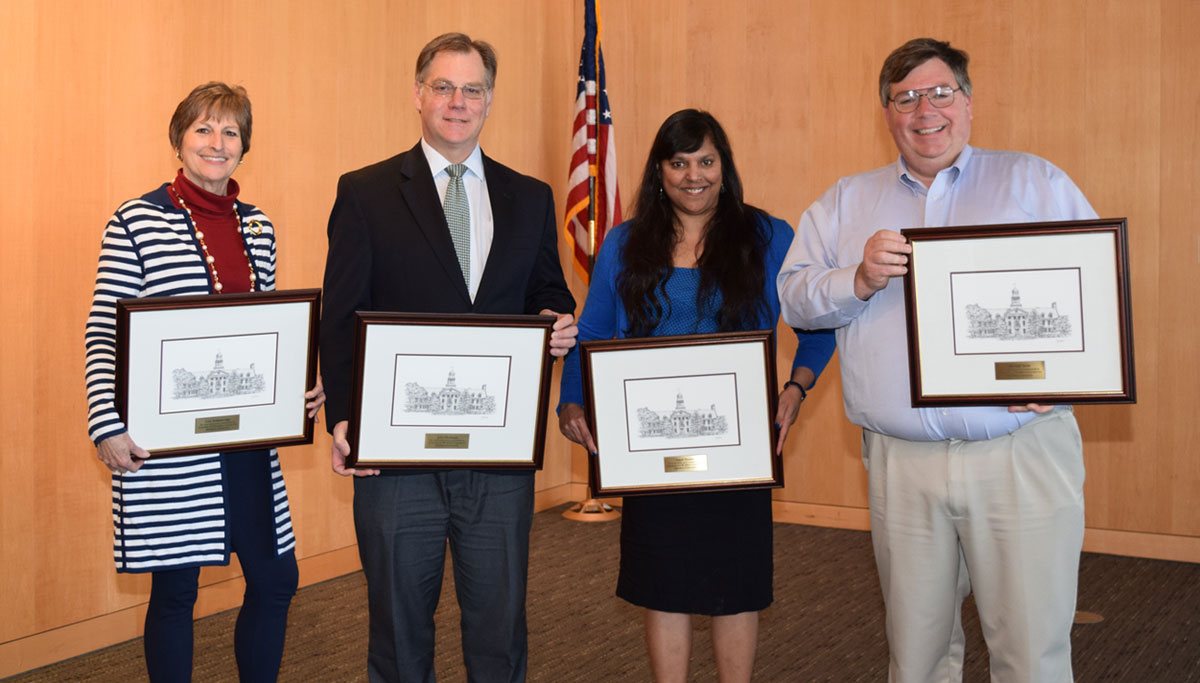 SALISBURY, MD---During Salisbury University's eighth annual Pub Night @ the Library, five members of the campus community were recognized for reaching an impressive milestone: each has earned externally sponsored funds totaling more than $5 million.
The honorees were Dr. Memo Diriker, founding director of SU's Business, Economic and Community Outreach Network; John Hickman, director of the Small Business Development Center; Dr. Anjali Pandey, professor of applied linguistics in the English Department; Dr. Michael Scott, interim dean of the Richard A. Henson School of Science and Technology and director of the Eastern Shore Regional GIS Cooperative, and Dr. Lisa Seldomridge, director of the Henson Medical Simulation Center.
"The research and projects led by these individuals and the outreach organizations they oversee is important," said Dr. Clifton Griffon, dean of graduate studies and research.
Also recognized for reaching notable levels were Dr. Enyue (Annie) Lu of Mathematics and Computer Science, who joined 17 other faculty and staff members who have earned over $1 million in externally sponsored funds, and Drs. Mike Bardzell of Mathematics and Computer Science and Randall Groth of Secondary and Physical Education, who joined nine others in garnering over $500,000.
In addition, the event celebrated faculty and staff academic service, creative works, media contributions, publications, scholarly achievements and other research.
"Our faculty are excellent teachers, but they do much more than simply teach," said Dr. Bea Hardy, dean of libraries and instructional resources. "They do research and publish, often having students research and publish with them. They serve on boards in the community, state, and beyond, including in professional organizations. And they receive honors. We started Pub Night to recognize all these other activities."
For more information call 410-543-6030 or visit the SU website.