$50,000 RSM Gift Benefits SU Partners in Excellence Accounting Fund
Wednesday September 19, 2018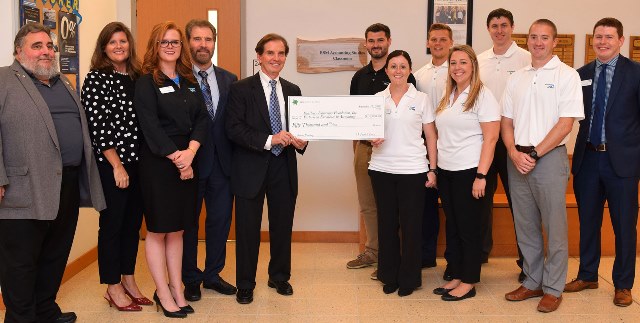 SALISBURY, MD---Many accounting students in Salisbury University's Franklin P. Perdue School of Business hope someday to work for a firm like RSM US LLP ("RSM"), the leading U.S. provider of audit, tax and consulting services focused on the middle market.
Starting this fall, those hopes will move closer to reality in SU's newly named RSM Accounting Studies Classroom in Perdue Hall following a $50,000 gift supporting the University's Partners in Excellence Accounting Fund.
The contribution was made jointly between RSM and long-time SU Accounting and Legal Studies Department supporter Pat Tracy, partner – risk and regulatory consulting – with RSM.
"Mr. Tracy has been a friend of SU and the Perdue School for many years," said Dr. Christy Weer, Perdue School dean. "We were honored in 2017 to present him with our prestigious Perdue Leadership Award in recognition of his commitment. We are grateful to him and to RSM for their continued support of the University, its accounting program and its students."
"Gifts like this are a win-win for SU and the accountants the Perdue School produces," said Jason Curtin, SU vice president of advancement and external affairs and executive director of the SU Foundation, Inc. "This contribution from Mr. Tracy and RSM will support scholarships for students and reaffirm that they're entering a profession with leaders and companies that believe in them and care about their future."
For more information call 410-543-6030 or visit the SU website.