SU Community Supports National Folk Festival
Friday August 31, 2018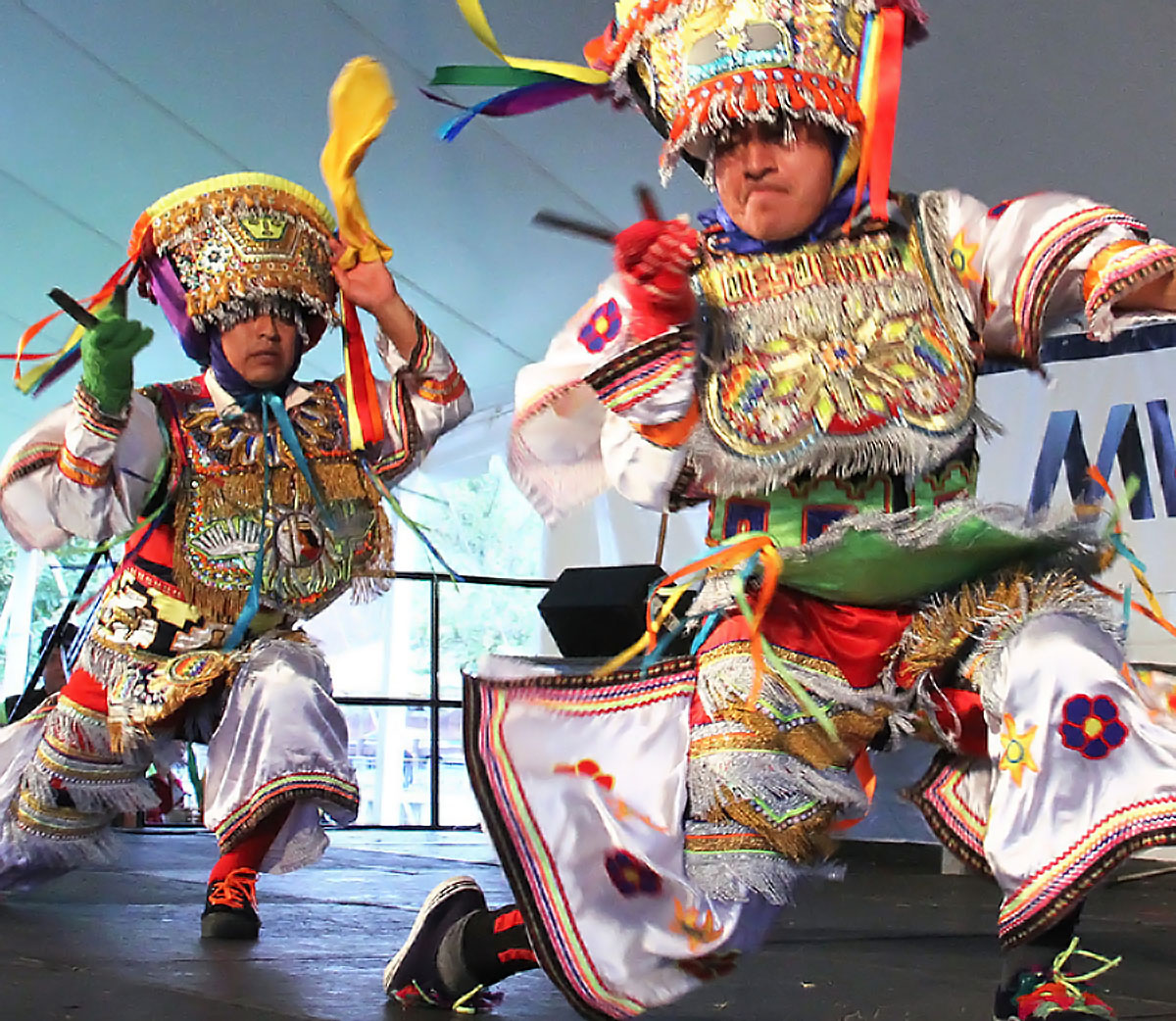 SALISBURY, MD---"The National Folk Festival marks a major milestone for our community and the amazing progress it has made in recent years, notably through its emphasis on the arts as a vehicle for downtown development," said Dr. Maarten Pereboom, dean of Salisbury University's Fulton School of Liberal Arts. "We are pleased to be partners in the effort, and I'm especially excited for our students to experience their community as a welcoming host for people and traditions from across the country and around the world."
As the City of Salisbury prepares to welcome tens of thousands of visitors during the festival from Friday-Sunday, September 7-9, SU students, faculty and staff are working to support this ambitious undertaking.
Efforts include:
• Sponsorship of the "Salisbury University Amphitheater"
• The Maryland Traditions Folklife Area, co-curated by SU's Ward Museum of Wildfowl Art
• An SU tent with admissions information near Market Street Inn
• An SU pop-up gift shop at the University's Gallery Building, 210 E. Main St. (separate plaza entrance next door to the main concourse), selling unique clothing and gifts
• And in The Gallery Building's concourse:
The exhibit "Hyphenative" at the SU Art Galleries Downtown focusing on reimagined folk traditions in a world of hyphenated and hybrid cultures, special festival hours are 5-8 p.m. Friday, noon-8 p.m. Saturday, noon-6 p.m. Sunday
A student entrepreneurship showcase and display of plans for the SU Center for Entrepreneurship, with tours of the space, 5-7 p.m. Friday, 2-7 p.m. Saturday and noon-6 p.m. Sunday
• Student and faculty artisans, including the SU Glass Club, with items for sale
• Faculty and staff serving on committees in advance of the festival and volunteering throughout the weekend
• Interns from the Charles R. and Martha N. Fulton School of Liberal Arts who worked with festival staff throughout the summer
• Hundreds of student, faculty and staff volunteers during the three-day event
• "Artist Buddies" from SU to host and support artists, including those for whom English is a second language
• Family Area activities supported by the Ward Museum's education program
• A post-event economic development study conducted by SU's Business, Economic and Community Outreach Network (BEACON)
Throughout the festival, the Ward Museum will serve as a visitor center, hosting a free carving demonstration and refreshments. (Regular admission rates to the museum's galleries will apply.)
In addition, Dr. John Wesley Wright of the Music, Theatre and Dance Department leads a sing-along of hymns, spirituals and other songs in the African American tradition 10 a.m. Sunday, September 9, at the Charles H. Chipman Cultural Center, 325 Broad St.
SU and Shore Transit provide free bus transportation to and from the festival for faculty, staff and students. Pickup near SU is in front of Pat's Pizzeria. Drop off and pickup downtown will be at the Calvert Street bus stop. Drop off on campus is at Maggs Physical Activities Center. (Please note: This is a change from an earlier posted schedule, which had pickup/drop off from Guerrieri Student Union Lot D. The new schedules are below.)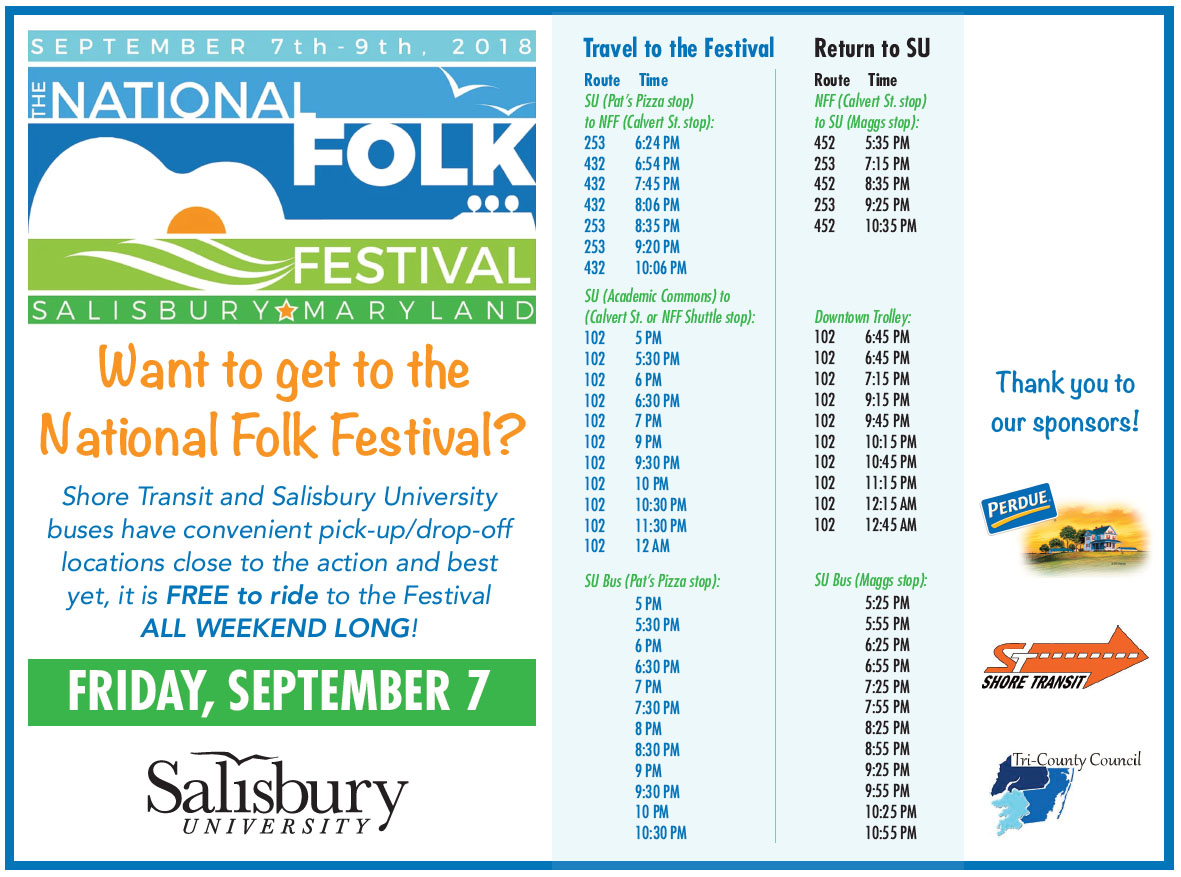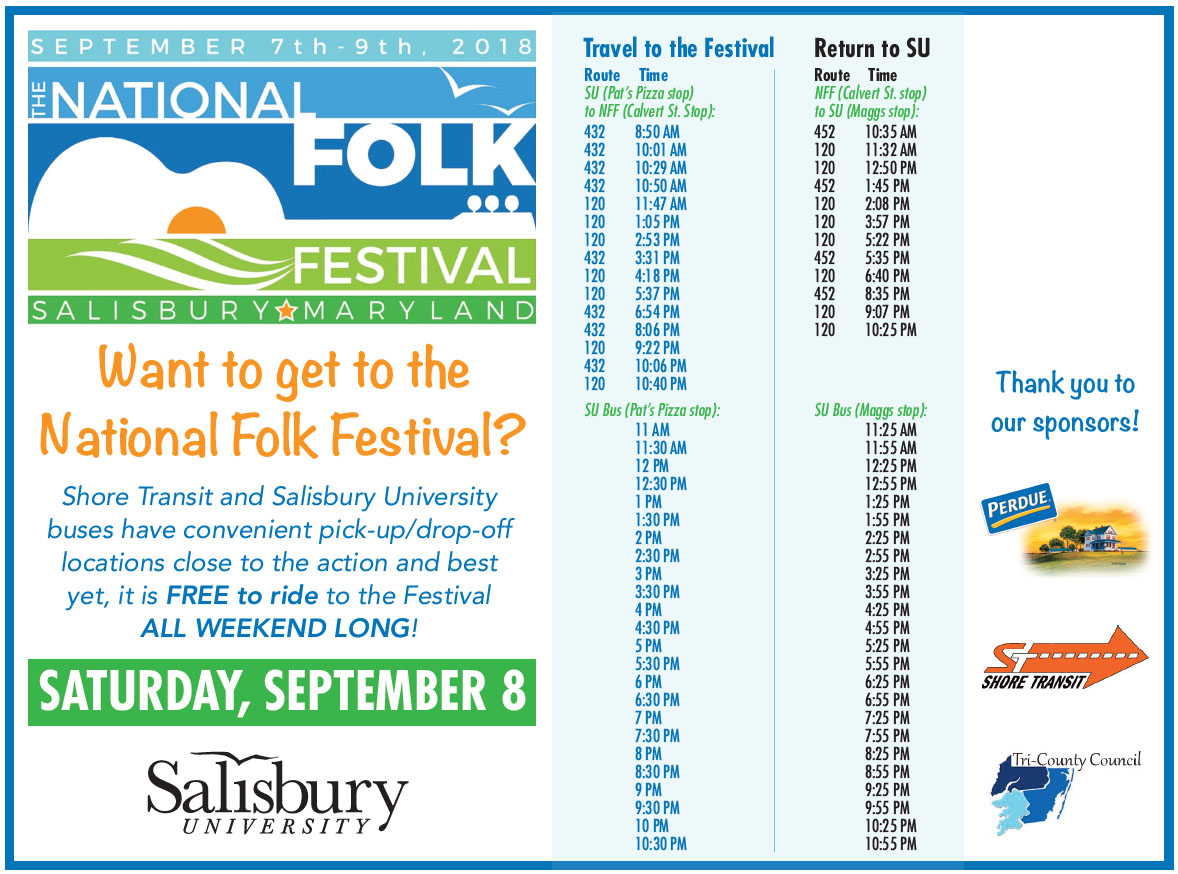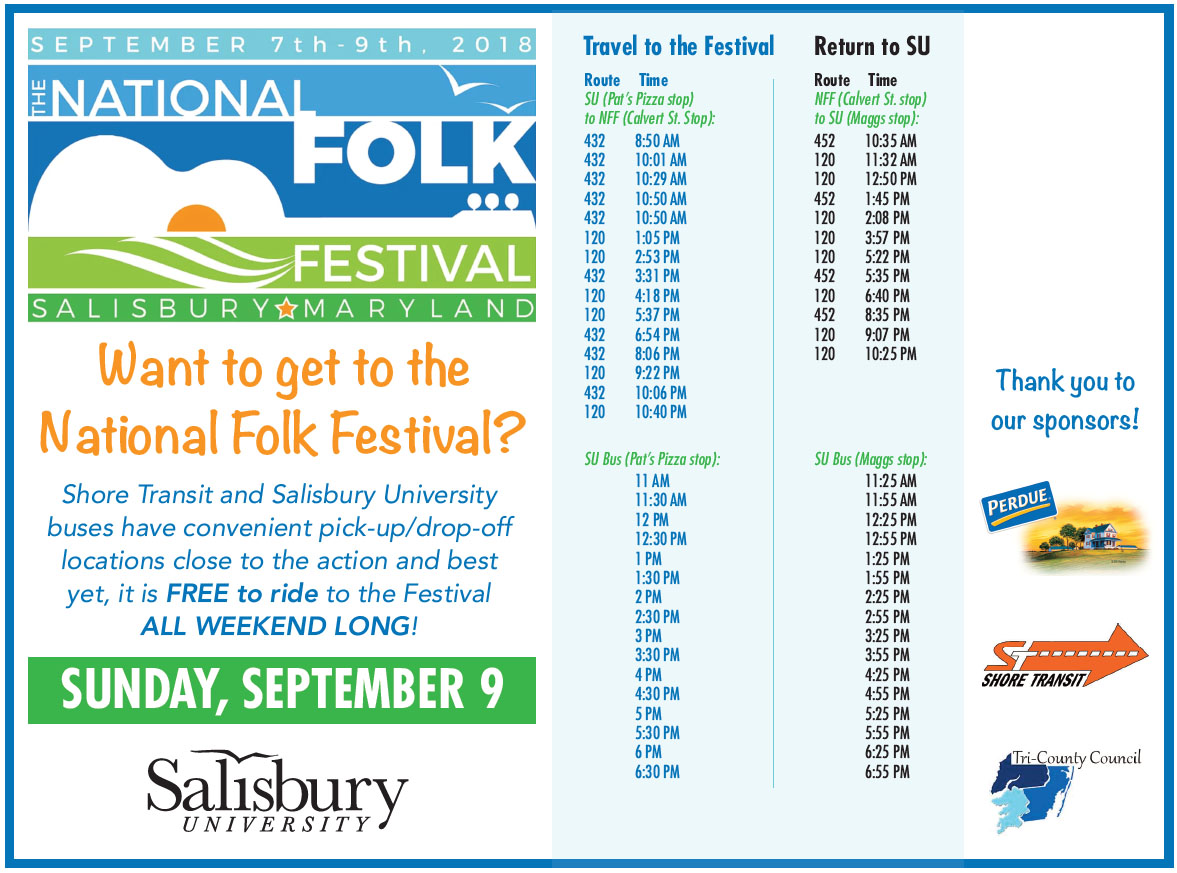 "SU is committed to the success of the City of Salisbury and the entire region," said Eli Modlin, SU deputy chief of staff and director of government and community relations. "We are proud to be a major partner and supporter on one of the city's biggest undertakings. The National Folk Festival will be an opportunity to show thousands of people from across the country what we already know – that this is a world-class Coastal College Town."
"Students at SU have always been engaged in supporting the greater Salisbury community through events such as I Love Salisbury, The Big Event, and fraternity and sorority philanthropy," added Dr. Dane Foust, SU vice president of student affairs. "Students bring energy and vibrancy to most every endeavor, and they are excited to offer that same enthusiasm to help assure the success of the National Folk Festival."
For more information about the festival visit its website.
SHARE