SU Students Earn Flynn Oncology Nursing Fellowship at Johns Hopkins
Wednesday August 1, 2018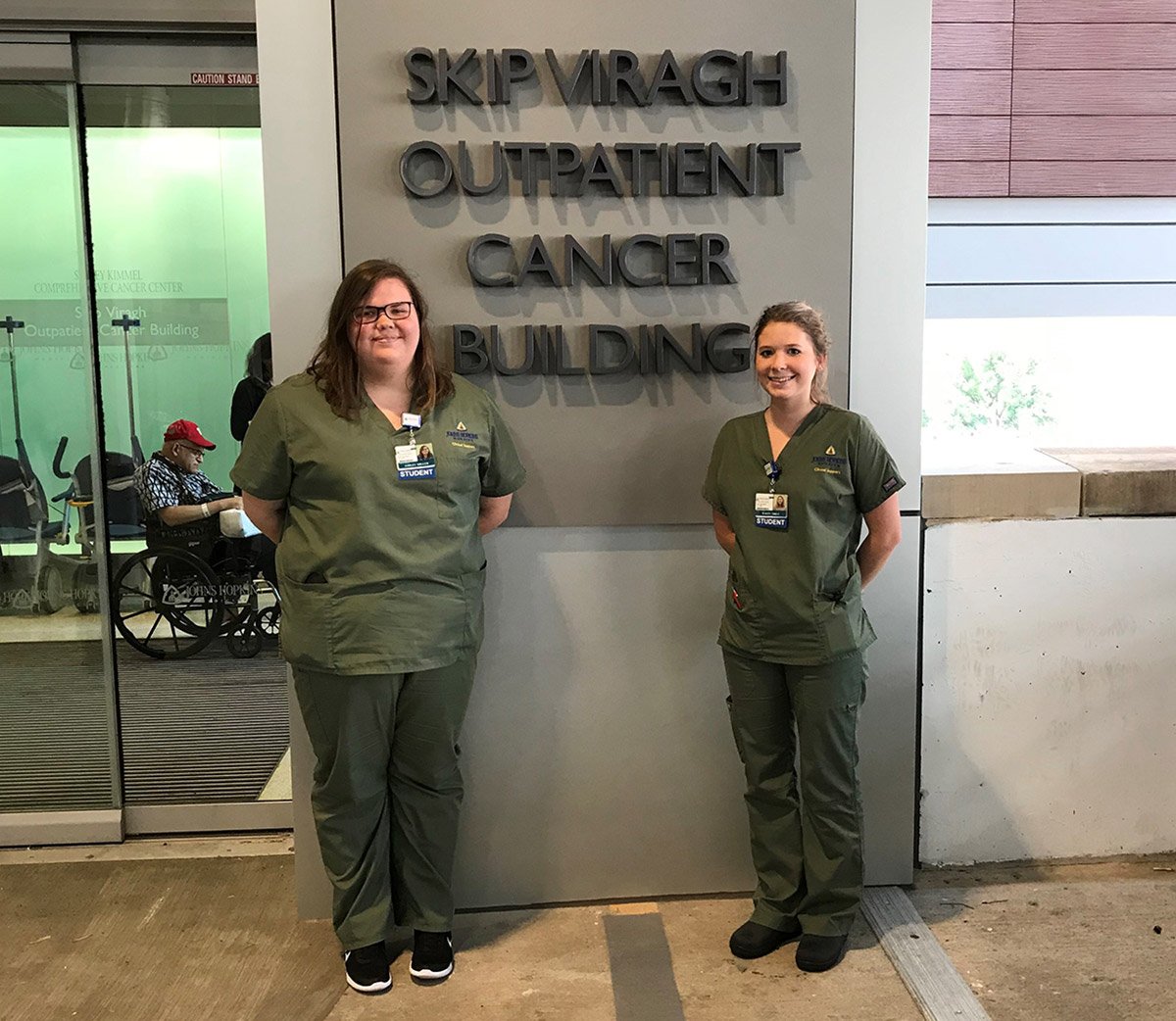 SALISBURY, MD---Like many people, Salisbury University seniors Ashley Miller and Haley Trice have watched loved ones bravely face cancer diagnoses.
This summer, the two nursing majors are helping other cancer patients at Johns Hopkins Hospital as recipients of the Susan D. Flynn Oncology Nursing Fellowship.
The competitive eight-week program immerses students from top undergraduate nursing schools in applied oncology training. Two positions were available to students from the University of Maryland, College Park, as well as Catholic, Georgetown, Salisbury and Towson universities. SU's students were selected to fill both.
"Our nursing students have a reputation for excellence," said Dr. Jeffrey Willey, director of SU's School of Nursing in the new College of Health and Human Services. "These are outstanding clinical experiences that Haley and Ashley are gaining."
"By working at the Sidney Kimmel Comprehensive Cancer Center at Johns Hopkins, I have the opportunity to be immersed in oncology nursing," said Miller, of Berlin, MD. "After seeing first-hand what cancer does physically and emotionally to patients, I hold a great appreciation for those who work in this unit and others like it."
Trice, of Ocean City, MD, said her interest in oncology nursing came from taking SU's pathophysiology laboratory course and seeing friends and family battle cancer: "My grandmother had total thyroidectomy and radiation when I was young. My best friend needed surgery for a rare form of melanoma last year. My grandfather is undergoing brachytherapy for prostate cancer. Being part of their experiences has opened my eyes to the importance of having strong support systems and compassionate nurses."
The fellowships allow the students to observe various aspects of oncology care, including chemotherapy, surgery and critical care. They work alongside experienced nurses and practice their own skills with patients as clinical nurse externs.
Miller has been based in a unit for critical care oncology patients, Trice in one for leukemia patients. They also have spent time in the pediatric unit and the recently opened Skip Viragh Outpatient Cancer Building. In addition, each is conducting a research project and will present findings to staff colleagues at Hopkins.
The Flynn Fellowship was created by Frederick Flynn to honor his wife, Susan, who died of ovarian cancer in 2013. He was inspired by those who took care of her at a Connecticut hospital and wanted to develop the next generation of oncology nurses. A handful of fellowship positions are offered at 13 facilities in the northeast, including Hopkins, Massachusetts General and Children's Hospital of Pennsylvania.
"I'm learning from healthcare workers at one of the finest hospitals in the world," said Miller, who wants to be an intensive care nurse at Hopkins after graduation. She already has gained experience with the multidisciplinary team approach to patient care.
"Hopkins is known for its incredible work in oncology," said Trice, who hopes to work in pediatric oncology. "I've witnessed technological and pharmacological advances in the field, and the knowledge I'm gaining from the nurses and doctors is invaluable."
For more information call 410-543-6030 or visit the SU website at www.salisbury.edu.