Anthropology Student Replicates Iron Age Artifacts With 3-D Printing
Wednesday August 1, 2018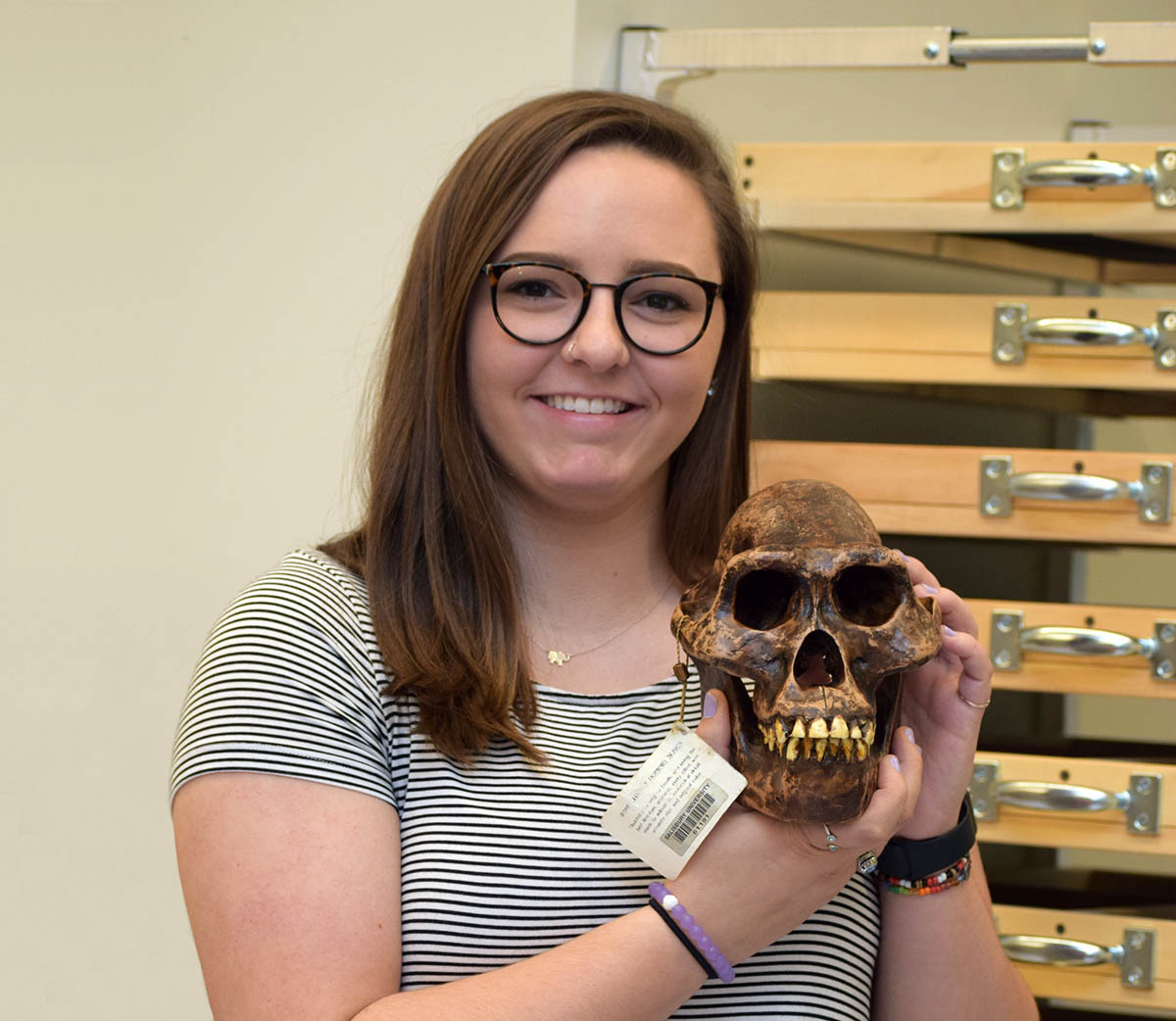 SALISBURY, MD---Inside of the Archaeology Lab on the fourth floor of Salisbury University's Patricia R. Guerrieri Academic Commons, Dr. Elizabeth Ragan and student Annelise Beer have much to say about casts of archaic human skulls. Skulls such as Homo erectus and Neanderthal line the table in evolutionary order, and the duo examines features of the extinct humans, including their "prominent brow ridges."
While the hominin skulls they chatter over are contemporary replicas, Beer has been collaborating with Ragan this past academic year to restore authentic artifacts from the Iron Age (1200 B.C.E.-100 C.E.) and reproduce them using cutting-edge technology.
A senior from Havre de Grace, MD, Beer is studying anthropology through SU's interdisciplinary studies major. She is also minoring in biology. These disciplines are tailored to her field of interest: paleoanthropology or "the study of human evolution."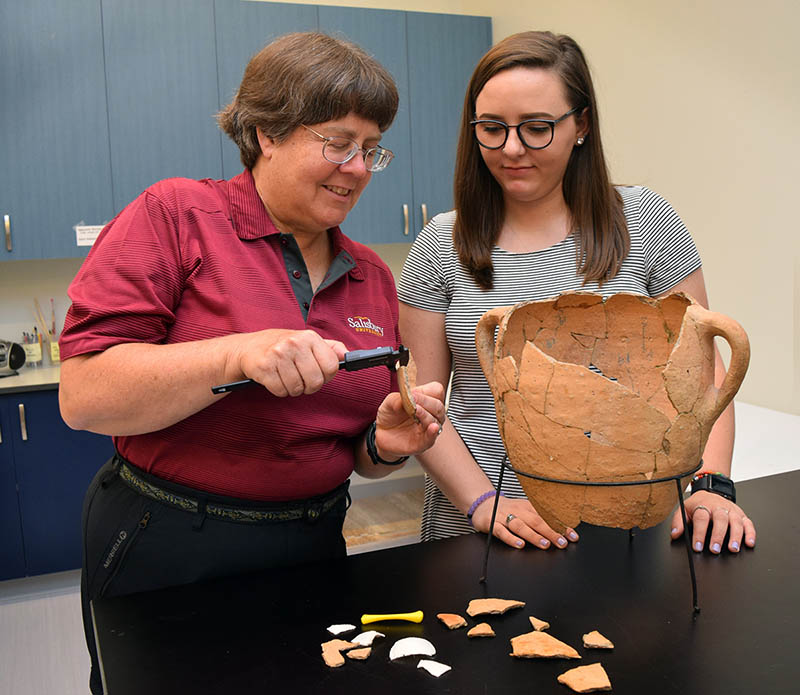 Beer hovers over a round earthenware jar with two handles. It originally contained infant remains and bone fragments, she explains. It had been partially pieced together with archaeologically "unapproved" glue prior to her work.
Beer points to several 3-D printed duplicates of bones and fragments sitting next to the jar, including the femur, eye socket and a piece of the skull from the infant. "Baby Beer" was likely less than a year old, and may have been stillborn or died shortly after birth, Ragan explains. In some cultures, if children died young, their remains would be placed in a jar and buried to keep them close to the family, she adds. They estimate that the artifacts are from as early as 800 B.C.
Beer relishes the opportunity to put the pieces back together—both in terms of the artifacts themselves and the stories surrounding them. As her mentor, Ragan has connected her to a fellow anthropology instructor at Virginia Commonwealth University so she can interact with other professionals in the field. Dr. Bernard Means, project director for the Virtual Creation Laboratory at VCU, specializes in scanning and producing 3-D images and models of artifacts.
The process of digitally scanning the infant remains was tedious and involved, Beer said, but creating the 3-D replicas with the printer only took about ten minutes per piece.
There are a wide range of applications for 3-D printed artifacts. Instructionally, for example, students want to be able to hold artifacts in their hands, not just look them, Beer says.
Hominin skull facsimiles range from $500-$800 apiece, Ragan says, but 3-D modeling makes them less expensive and more accessible to the public, with less risk.
It's the connection to history that gives this new technology meaning; it's the ability to pick up the femur of "Baby Beer" and know that the exact dimensions, lines, ridges and smooth curves are those of a child who was born thousands of years ago. Beer's work to copy the infant skeleton is part of a larger movement to use present technologies to make the past more accessible and authentic, an important mindset she brought back from VCU to SU.
In addition to restoring the jar and replicating the infant skeleton, Beer participated in a competitive paleoanthropological field school in South Africa last summer. "This is what we do at SU," says Ragan, noting Beer's numerous networking and professional opportunities.
Beer will continue to piece together the skeleton, a process 3-D printing makes simpler by allowing her to use glue and other materials without worry. "I hope to be able to make an exhibit out of this," she says.
For more information, call 410-543-6030 or visit the SU website at www.salisbury.edu.


SHARE