SU Students Earn NOAA's Hollings Undergraduate Scholarships
Monday June 11, 2018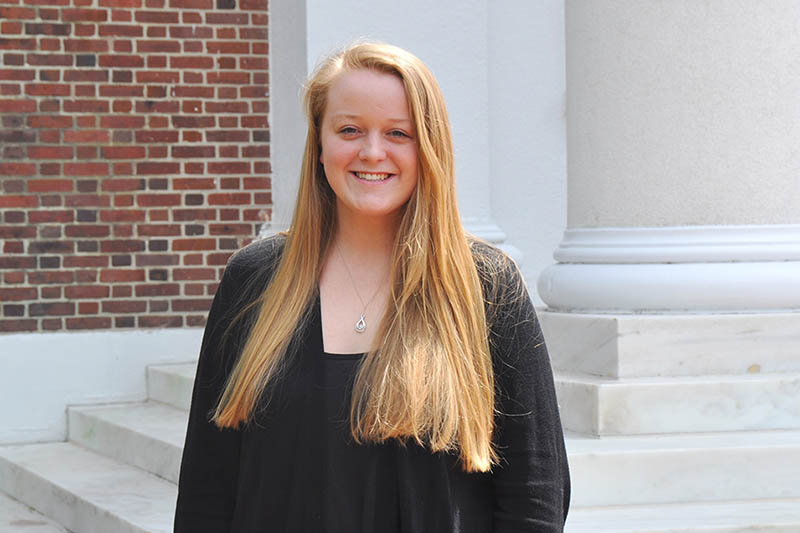 SALISBURY, MD---The National Oceanic and Atmospheric Administration (NOAA) has chosen two Salisbury University students – Samantha Koehler and Kayla Rexroth – as recipients of its Ernest F. Hollings Undergraduate Scholarship.
"To the best of my knowledge they are SU's first two recipients of this impressive scholarship," said Dr. Kristen Walton, director of SU's Nationally Competitive Fellowships Office.
They each will receive $19,000 total for their upcoming junior and senior years, and 10-week full-time paid internships at NOAA facilities next summer. At a recent orientation in Silver Spring, MD, they met NOAA scientists and peers, and learned about available opportunities.
The National Hurricane Center in Miami is where Koehler, a physics and geography double major from Princess Anne, MD, hopes to be placed.
"My goal is to be a research meteorologist specifically focused on hurricanes," she said. "I'm really glad I got this NOAA award because this is where I hope to end up working for my career."
Rexroth, a biology major and earth science minor from Owings, MD, said she wants to "use telemetry to study the migration patterns of endangered species to help mitigate the loss of important aquatic animals." She is mostly interested in skates and rays and hopes to work at one of NOAA's Northeast Fisheries Science Centers.
"I want to research the daily habits of skates and rays and how they interact with their environments to help prevent extinction," she said.
Dr. Michael Scott, interim dean of SU's Richard A. Henson School of Science and Technology, applauded the students, explaining that only 150 applicants were selected out of more than 600 nationwide.
NOAA Education Director Louisa Koch called the scholars "the next generation of scientists, stewards and educators" and "an accomplished group of students ready to investigate our changing environment, from forecasting severe storms, to monitoring our climate, to managing the nation's fisheries, and to restoring our coasts."
Previously, Koehler has twice interned with the National Aeronautics and Space Administration (NASA), assisting with global precipitation measurement and rain data from the Eastern Shore.
"I've always been interested in storms," she said. "Growing up on the Shore, I've seen a lot of impacts from hurricanes, especially in Crisfield. I also did a mission trip to Staten Island for Hurricane Sandy relief. Knowing more about them provides better preparedness to the cities that are hit the most. The more we know the safer we can be."
"Physics applies math and science to how hurricanes work, and geography gives me an understanding of the meteorology side," she added. "Putting both programs together is the perfect dynamic for what I want to do."
Rexroth is interested in marine biology, and has volunteered with the Calvert Marine Museum's touch tank for skates and rays. This summer, she is interning at the National Aquarium in Baltimore, thanks to her zoology laboratory professor Mary Gunther.
"It will help open up so many doors," she said. "Working in a sanctuary with multiple fish and invertebrate species, including skates and rays, I'll hopefully gain more knowledge and skills on how to properly care for many different aquatic animals before I go to NOAA. Skates and rays truly are beautiful creatures. They tend to have sort of a negative perception due to the death of 'Crocodile Hunter' Steve Irwin, but I want to show that they are actually a really interesting and gentle species."
Koehler said the scholarship provides a huge relief in helping cover tuition, while Rexroth added that it would allow her to save up for graduate school. The awards also cover travel expenses, and provide funding for the students to present their NOAA research projects at up to two national scientific conferences. They will find out their exact internship placements in the fall.
The NOAA Hollings program is designed to increase undergraduate training in oceanic and atmospheric science; increase public support for stewardship; and prepare students for public service careers with natural resource and science agencies, or as teachers to improve scientific and environmental education. It honors U.S. Senator Ernest F. Hollings (SC), who was well known for supporting ocean policy and conservation.
More than 30 SU students have won national and international fellowships, scholarships and awards in the past seven years, including the Fulbright, Gilman, Gates Cambridge and others with the Environmental Protection Agency and National Science Foundation.
SU students or alumni who are interested in applying for any national fellowships, may contact Walton at kpwalton@salisbury.edu for assistance. For more information, visit www.salisbury.edu/nationalfellowships.