2018 SU Entrepreneurship Competition Winners Announced
Monday May 21, 2018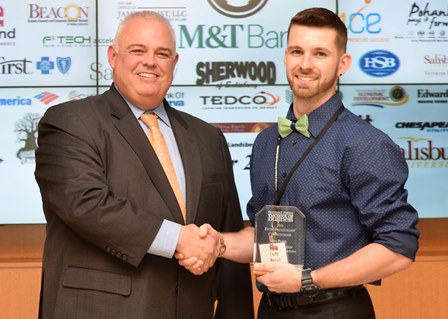 SALISBURY, MD---For local entrepreneur Cody Revel, recent graduate of Salisbury University's Samuel W. and Marilyn C. Seidel School of Education and Professional Studies ('17 B.S., exercise science), fitness is a way of life.
Through Salisbury-based Athlete Academy, the Seaford, DE, native hopes to impart that philosophy to local youth and athletes of all ages.
Revel's business plan recently took home the $20,000 Bernstein Achievement Award for Excellence during the 31st Franklin P. Perdue School of Business Entrepreneurship Competitions for SU students.
The annual competitions again were sponsored by M&T Bank.
Opened earlier this year, The Athlete Academy specializes in fitness and training for children and young athletes. The idea, Revel said, is to instill ideals in kids about exercise, healthy eating and character that can be used in everyday life, then nurture those habits through adulthood.
"What sets us apart is that we care about our athletes," he said. "It's our culture. We're not just training them to be good for this weekend or this tournament. We're showing them a path."
In addition, Revel received $1,000 by advancing in the first round of competitions, the "Invest in My Idea" poster presentation. He placed first in the second round of the competitions, the "Gull Cage," winning $4,000. (In the Gull Cage, participants give a Shark Tank-like elevator pitch to local business leaders).
Through the event's "competition within a competition," he also earned two Business Sector Awards: the $1,000 SWED Choice Award, presented by Salisbury-Wicomico Economic Development, and the $5,000 City of Salisbury Award ($3,000 grant to establish the business in Salisbury plus $2,000 in business services).
In all, Revel left the Entrepreneurship Competitions with some $31,000 in cash awards and services. The day before, he received $15,000 through SU's Philip E. and Carole R. Ratcliffe Foundation Shore Hatchery entrepreneurship competition for business startups throughout the Mid-Atlantic.
A record 51 teams, representing each of SU's academic divisions, entered this year's competitions, up slightly from 2017. While Revel graduated in December, he joined 30 percent of teams including students from outside the Perdue School. Fifty percent of this year's Gull Cage winners were from the Seidel School, Charles R. and Martha N. Fulton School of Liberal Arts, and Richard A. Henson School of Science and Technology. Sixty-six percent of this year's Bernstein Award winners were from the Seidel and Henson schools.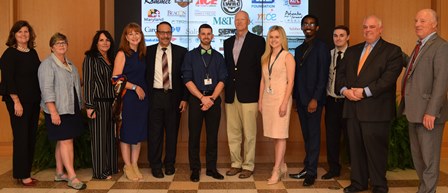 William Burke, SU executive director for economic development and director of the Entrepreneurship Competitions, attributed the increases in part to a University-wide campaign to inform and encourage those enrolled in all of SU's schools and colleges to participate in the competitions and use the resources available to them for preparing their entry. These include the Perdue School's new Innovation, Entrepreneurship and Economic Development Hub (the Hub), which opened in 2017.
In the Hub, members of the University's Collegiate Entrepreneurs' Organization (CEO) offered student-to-student business plan and coaching services. Entrants also receive training and support from John Hickman, director of the Small Business Development Center at SU; Bill Bernard, rural business mentor at the Maryland Technology Development Corporation (TEDCO); and Mike Thielke, executive director of the Eastern Shore Entrepreneurship Center and F3 Tech.
SU faculty also provided workshops and office hours for students. They include Drs. Gene Hahn, professor of information and decision sciences; Chao Miao, assistant professor of management; and Patrick Fennell, assistant professor of marketing; as well as Paula Morris, marketing professor of the practice; Bob Morrison, management lecturer; and Bob Barber, mathematics and computer science senior lecturer.
Additionally, Burke highlighted the increase in Business Sector Awards from $22,000 in cash, prizes and awards in 2017 to $44,000 in 2018. In total, this year's competitions included over $100,000 in cash, awards and services.
"Our reach and support from the entrepreneurship ecosystem, campus and business community at large is impressive," Burke said.
The Business Sector Awards allow individuals, groups and organizations to select their own winners in SU's competition format.
Two campus organizations introduced new awards this year: The Office of Institutional Equity sponsored the $1,000 Diversity Award (some 56 percent of "Invest in My Idea" winners and 66 percent of Bernstein Award finalists identified as diverse), and the SU Veteran Services Office partnered with Roger Martinson of Edward Jones for the new SU Veteran Services/Edward Jones Award for a student business connected to the military or active/inactive military member ($250 cash and $750 in financial services).
Placing second in the Bernstein round was Cupcakes by Frosted, an Ocean City, MD-based bakery founded by SU freshman Entrepreneurship Living Learning Community member and management major Lindsay Jones, who earned some $15,500 in cash, awards and services, including the Whitespace Group Award, which consists of $1,500 in marketing and branding services. Started four years ago, the bakery has produced cupcakes for individual and corporate clients including SU, Marriott and Hardwire, LLC.
Valkyrie Software Solutions, a digital technology company proposed by sophomore computer science major Cameron Kane of Silver Spring, MD, placed third in the Bernstein round, taking home a total prize package of $9,000 in cash, awards and services, including the Diversity Award. Prior to winning at the competitions, Kane earned an SU Research Grant to develop data he plans to turn into an on-screen display representing audio cues from video games for players with hearing impairment.
Bernstein finalist Joseph Palmer, a senior information systems major from Madison, New Jersey, also proposed a solution for video gamers. His JK3 Technology developed a color-changing LED light system that would be installed behind monitors to help reduce eye-strain during long periods of play. He earned $2,000 in cash during the competitions' earlier rounds.
In addition to the four finalists, 11 other business plans received $1,000 each during the "Invest in My Idea" round. They included:
• Bree Strong: Third Eye View (alternate to chalkboards and film for coaches teaching or reviewing game plays) – Breanna Sherman
• Dibble (grocery coupon app) – Jock Simon (with Jorge Brito of Towson University and Roman Fuentes of the University of Maryland, College Park; also received the $5,000 F3 Tech Award: $1,000 plus $4,000 in startup business services)
• Fit Points (health app) – Kyle Tucker (with Anthony Stavrakis; also received the $5,000 CareFirst BlueCross BlueShield Award and the James A. List Award: $2,500 in attorney services)
• Game Over Gym (arcade-based gym) – Taylor Courtney (also received the $1,000 SU Veteran Services/Edward Jones Award: $250 and $750 in financial services)
• Grill Boss (propane grill automatic shutoff system) – Reilly Webb
• Medica-Bed (medical bed designed to help prevent bedsores) – Sepher Rahimi (also received the $5,000 Dover Corp. Best Product Award)
• NightICE (time-controlled ice therapy medical unit) – Joshua Woozley (with Mark Woozley)
• Online Academic Management: Skyway (college course selection app) – Kaitlyn Causey
• VitaminFog (inhaled vitamins) – Joon Kim (with Brandon Ashley)
• Wecycle Plastics Co. (construction materials from recycled plastics) – Chris Clift (with James Dickie; also received the James A. List Award: $2,500 in attorney services)
• Xylm (bioluminescence-based alternative light source) – Jessica Stephenson (with Nick Carter, Geraldine Ezeka, Tarik Hawkins and Cearra Tabb; also received the $5,000 Dover Corp. Best Product Award)
Additional winners included:
• Comet Industries (manufacturer of environmental tools, including an autonomous vessel to clean the surfaces of ponds, lakes and swimming pools) – Allen Reynolds (with Mohsin Mehmood and Hafeez Shittu of the University of Maryland Eastern Shore): $1,000 Director's Award for cross-campus collaboration
• Fog Farmer ("aeroponics" humidifier for sprouting seeds) – Collin Moshedi: $5,000 F3 Tech Award ($1,000 plus $4,000 in startup business services)
Regardless of whether their proposals were selected for funding, all participants had the opportunity to win raffles with prizes donated by BeachUm, Burley Oak Brewing Co., Dogfish Head Brewery, Evolution Craft Brewing Co., Plakthat.com, Rommel's ACE Hardware and Shore Cycles.
During the final awards ceremony, the local business leaders who volunteered their time as judges praised the students' efforts.
"The pitches were on target," said George Koste, executive director of Maryland Capital Enterprises.
"I know my father would be proud," said Kevin Bernstein, vice president of LWRC International, LLC, whose father, Richard, established the Bernstein Achievement Award for Excellence in 1986. "Every year it gets better and better."
For more information call 410-543-6030 or visit the SU website.