Women's Circle Overview
The Women's Circle of Salisbury University builds connections and support systems for women. This initiative moves beyond the borders of our campus to involve women community-wide in inspiring events and initiatives. The Women's Circle initiates endowments for students' learning and research, and promotes new ways for women to support each other. The Women's Circle hosts several regular events, including professional development forums, an annual breakfast featuring student speakers, and fundraisers.
The Women's Circle of Salisbury University Educational Enhancement Award
The Women's Circle of Salisbury University and Honors College will provide a $1,000 award to a Salisbury University student who endeavors to experience an activity outside of the traditional classroom setting to further his or her education. The award must be used during the summer or fall semester of 2023. Examples include but are not limited to those expenses associated with volunteer service trips, service projects, experiential learning, internships, study abroad and conference attendance. Applicant must be a full-time student, in good standing at Salisbury University, have a cumulative grade point average of 3.0 or better, and demonstrate leadership and service through community involvement.
Applicant is asked to provide a personal statement of 800 words or less to include the following information:
Statement of Intent: Student will include their year of study. Student will describe the activity for which they will use the funds, what the money will cover and how the activity will support and enhance his or her educational experience.
Career goal(s): Student will describe how this experience will help achieve their career goal(s).
Statement of need: Student will explain why this award is needed. Please include any financial challenges.
Community Involvement: Student will provide examples of leadership and community involvement.
Applications are due by April 15, 2023 and can be emailed to Dr. Andrew Martino Dean, Glenda Chatham & Robert G. Clarke Honors College at  apmartino@salisbury.edu. Recipient will be announced by May 15, 2023.
Peer-to-Peer
P2P is a sub-group of the Women's Circle focused primarily on professional development.
Upcoming Events
Enjoy conversation, a special guest and recognize the most recent Women's Circle of SU Educational Enhancement Award Winner on Friday, September 29, 2023, at Salisbury University's Worcester Room.  Coffee and Networking starting at 7:30 a.m., 8:00 a.m. meeting.
Should you have any questions, please email Peer2Peer@salisbury.edu.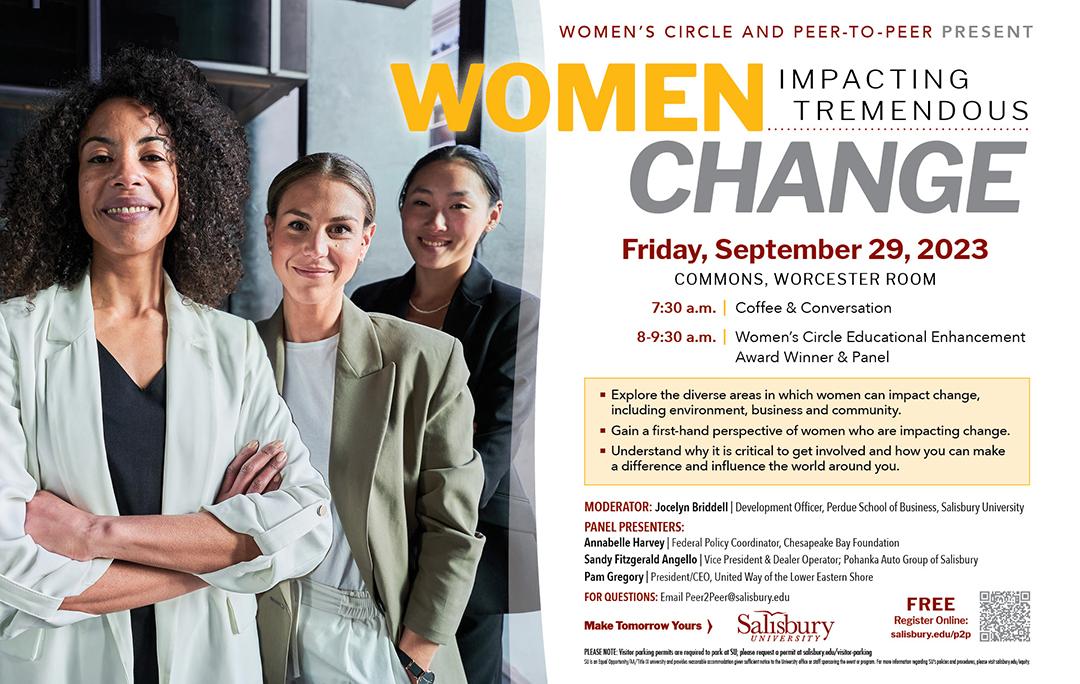 Please contact Peer2Peer@salisbury.edu if you would like to be added to our mail list and feel free share our link with others to join us.
Our Proud Sponsor