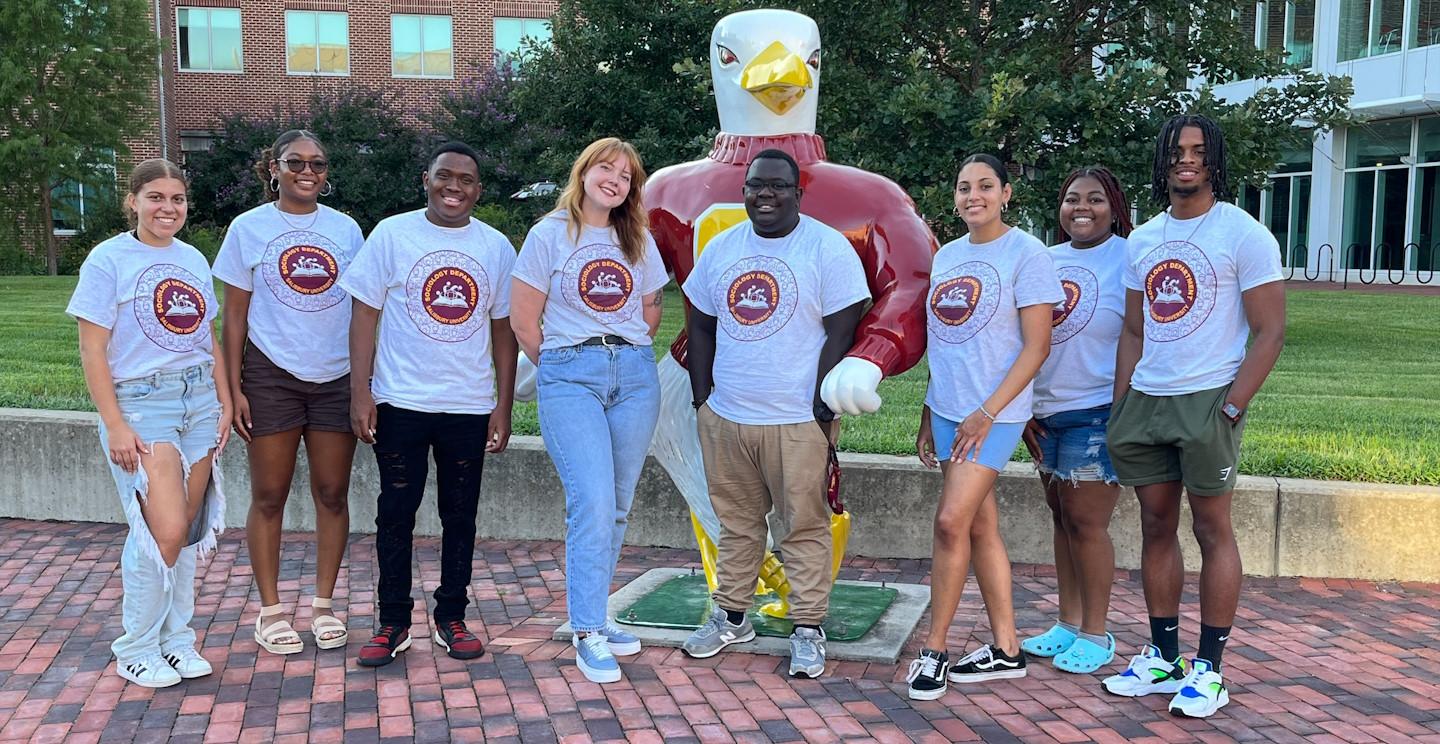 Sociology Department
As a discipline, sociology focuses on how the experiences and behavior of individuals are shaped by social forces. Sociology students prepare for careers in a wide variety of areas. According to a 2021 survey, our alumni are working in fields such as criminology, social psychology, public administration, non-profit organization, social services and advocacy, gerontology, education and marketing. In each of our sociology courses, students practice skills in critical thinking, cultural competence, technological savvy, research skills, and social justice.
The Sociology Department fosters students' ability to respect the dignity and essential worth of all individuals and to provide leadership toward a more just social world. Through its strong emphasis in the core areas of theory and social research, the department both prepares students for study beyond the B.A. and provides a useful background for law, business, medicine, community planning and politics.
Meet the Sociology Department faculty and staff.
View our course offerings and check GullNet for current schedules.
Mission Statement:
The Department of Sociology provides a high-quality undergraduate program underscoring critical thinking, cultural competence, technological savvy, research skills, and social justice. By emphasizing teaching as the top priority, we engage our students in an intellectually stimulating exploration of our social world from broad, sweeping global changes to inter-personal interaction using a range of theories and methods. Throughout our courses, students enhance their sociological imagination developing a crucial understanding of the relationship between individual experiences and larger social forces. Consequently, Sociology students gain the skills necessary to respect the dignity and essential worth of all individuals and to provide leadership toward a more just social world.
Our Academic Programs
The Department of Sociology offers a program leading to the Bachelor of Arts in sociology, providing a solid foundation as students prepare for a variety of career opportunities and continued education. Learn more about the programs offered by our department:
Outside of the classroom, the Sociology Front student group hosts regular events on applied sociology, particularly as it's seen in current events, films, and pop culture. Additionally, our students use their knowledge and skills in many capacities, volunteering with at-risk youth, the homeless, the elderly, domestic violence hotlines/shelters, afterschool and tutoring programs, and more. Sociology faculty are active in their own research and encourage majors to enhance their classroom experiences through study abroad programs, internships (35% of majors) and individualized study. In partnership with the Sociology Front, the Department also invites scholars, alumni, and local community leaders to discuss their work and sociology in action.
For more information about the Sociology Front, find them on Instagram @sociologyfrontsu!
Internships in Sociology
Sociology students have the opportunity to gain college credit for their internships! In recent years, students interned with:
Salisbury Mayor's Office
Life Crisis Center
Maintaining Active Citizens (geriatric services)
Fenix Youth Project
Parole and Probation
Habitat for Humanity
HALO Homeless Shelter
Migrant Clinicians Network
Maryland Commission on Civil Rights
Civil Rights and Labor Law Office
State's Attorney Office
Ocean City Police
of Homeland Security
WBOC TV News
Partnership for Families and Children
LGBT+ Safe Spaces Program
For more information about internships and how to earn course credit, contact Dr. Tim Dunn at tjdunn@salisbury.edu.
Safe Spaces
The Safe Space workshop is an innovative, dynamic, hands-on approach to creating safe space for all; focusing specifically on the Lesbian, Gay, Bisexual, Transgender, Questioning, Intersex and Asexual (LGBTQIA) community. From the classroom bully to the unintentional exclusion by use of certain language, LGBTQIA people frequently find themselves excluded and uncomfortable in a variety of settings. This workshop aims to reduce the often unwelcoming and even hostile environments in which LGBTQIA people navigate in their daily lives. Workshop participants will explore their role and responsibility in creating a more welcoming environment at work, school, and in our communities. All attendees will leave the workshop with greater understanding and workable solutions for promoting Safe Spaces of Respect, Acceptance, and Support for all.
Dr. Diane Illig, professor of sociology at Salisbury University is the Director of the Safe Spaces program.
For more information about the Safe Spaces program, visit safespacetraining.org.
6

Major Career Opportunities
Support the Sociology Department Today!