Welcome to Outdoor Education Leadership
News and Announcements
"Let your walks now be a little more adventurous."
- Henry David Thoreau
Adventures in Education
Salisbury University offers both a major and a minor in outdoor education leadership.
For program requirements visit the University catalog:
Outdoor education leadership courses at Salisbury University take learning beyond the boundaries of the traditional classroom to help students develop a broad variety of practical skills in an atmosphere that combines discovery and adventure. Core components of the program include stewardship of the environment and the development of adventure-based leadership skills. Experiential learning techniques are used and key objectives include:
Equipping – students with essential skills for safely planning and leading outdoor excursions. Courses are available in Wilderness First Aid, Navigation, Canoeing and Kayaking, Camping and Backpacking, Scuba Diving, Outdoor Leadership Techniques, Camp Management and Leadership, and Adventure Based Leadership.
Engaging – the natural world in classes that facilitate a better understanding of and appreciation for the environment. Leave-no-trace ethics are taught and carefully observed as students learn simple and memorable techniques for stewardship.
Expanding – student aptitudes for self-reflection, interpersonal communication, peer-leadership and crisis decision making. These courses are specifically designed to push individual comfort zones. Participants should expect rigorous challenges, ranging from full-length research papers on leadership disasters to winter hiking and backpacking on the Appalachian Trail.
Expand Your Horizons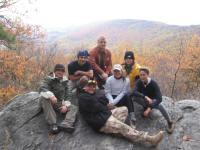 Outdoor education leadership classes offer practical preparation for a growing job market. Graduates of the program will acquire skills that can be used in Camp leadership, National Park Services, and a variety of wilderness adventure and interpretive programs. Job-ready certifications include Canoeing and Kayaking, Wilderness First Aid, and SCUBA Diving. Internships are available upon request and can provide ideal preparation for prospective employers. An outdoor education minor is also an excellent complement for any major, as it offers an alternative approach for developing valuable skills such as teamwork, communication, risk management, and responsible decision making.
One important and unique feature of Salisbury University's Outdoor Education Leadership Program is its focus on camp leadership. Few outdoor education leadership programs really focus on this subject area, which includes strategies for designing programs, understanding and responding appropriately to the various developmental stages of children, and training and hiring camp staff.
Find Yourself:
Cooking dinner by fire while watching the sun set over an Appalachian skyline.
Learning new techniques for scrambling up a rock wall.
Navigating with a compass and a topographical map.
Exploring the Eastern Shore's scenic waterways from the seat of a kayak.
Developing real-world survival skills, including first-aid and emergency shelter-building.
Leading a large group of your peers in a dynamic and engaging adventure program of your own design.