Thursday, December 11, 2014
Works by John Roe on Display Through Thursday, January 8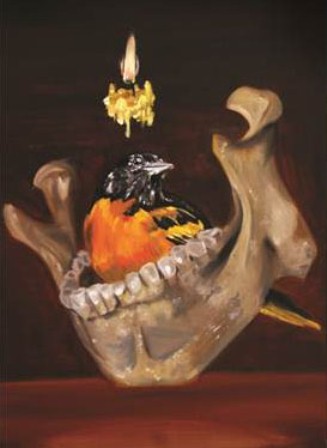 SALISBURY, MD---The Guerrieri University Center Art Space hosts the exhibit "Unintentional Reflections" by Salisbury University alumnus John Roe through Thursday, January 8.

Earning his B.F.A. from SU last spring, Roe is an Eastern Shore native who draws inspiration from a variety of sources.

"Lost in thought, running through the moonlight woods, nestled in the static noise of an old television, embracing the void of closed eyes: These are words that come to mind when the question of my art is raised," he said. "Stillness is nerve-racking, always working, always moving, always thinking, as time ticks away until the emerging light of dawn creeps through barely open curtains, a place where the sun is silent and sleep feels like it could be a coma I'd never wake from.

"This is my expression, the passion of a million other artists who have come before me. The expressive notion becomes an escape, what starts with a concept, a sentence, lyric or conversation is brought to life through relentless research and personal direction in order to silence the mind.

"In order to enact these ideas and reflections, I turn to the painted and illustrative medium. The medium of paint allows for a richness granted by its pigments, which allows for a greater range of value and a longer window of time for correction.

"The ability to push and pull the oil medium as it dries, to cover one color with another, to blend two colors together with the slightest touch of the brush grants an enormous sense of representation, alongside the ability for continuous battle, vast manipulation in order to make the canvas speak to the viewer."

The Art Space is located in the Guerrieri Center's second-floor concourse. Admission is free and the public is invited. For more information call 410-543-6247 or visit the Art Space website at http://www.salisbury.edu/guc/artspace.