'Work Ark' Magazine Interviews SU Professor
Friday September 10, 2010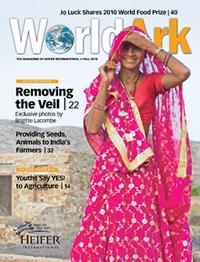 Salisbury, MD---Is it possible to "find peace in play" in Uganda?
Salisbury University professor Dean Ravizza recently talked with a reporter for World Ark magazine about using sports to rehabilitate and reintegrate former child soldiers and other victims in war-torn regions. His story is featured in the "Asked & Answered" section of the magazine's fall 2010 edition.
A faculty member in SU's Health and Sport Sciences Department, Ravizza discussed the inspiration for his research, the situation in Uganda, and the next steps for his project. He also shared some of his interactions with the children, and some of his findings which support the idea that sports can effectively build peace and promote conflict resolution to help the children avoid poverty and become successful members of their communities.
World Ark is published by Heifer International, a humanitarian organization dedicated to ending poverty and hunger worldwide, and raising awareness about caring for the Earth. Since 1944, the non-governmental organization has helped 12.5 million families in more than 125 countries become more self-reliant.
To read the full story, visit http://www.nxtbook.com/nxtbooks/heifer/worldark_2010fall/#/12.
SHARE