Friday, April 24, 2015
Ward World Championship Wildfowl Carving Competition Apr. 24-26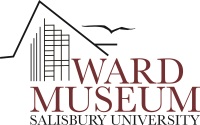 The Ward World Championship Wildfowl Carving Competition, hosted by SU's Ward Museum of Wildfowl Art, is an international event where carvers, collectors and visitors convene at the end of each April in Ocean City, MD.
From highly decorative works of art to functional hunting decoys, about 1,200 different wildfowl carvings representing more than 150 species from around the world are on display. Competitors of all levels -- from youth to world champions -- compete against their peers for the chance to win a portion of nearly $60,000 in prize money, as well as other recognition including ribbons, medallions, plaques and trophies. There are 39 different divisions in which an artist can compete -- decorative life-size and miniature wildfowl, floating waterfowl, interpretive, gunning decoys, contemporary antiques and sculpture to name a few.
Click here for more information.