Tuesday, August 22, 2017
Vienna Boys Choir Performs at SU Monday, October 16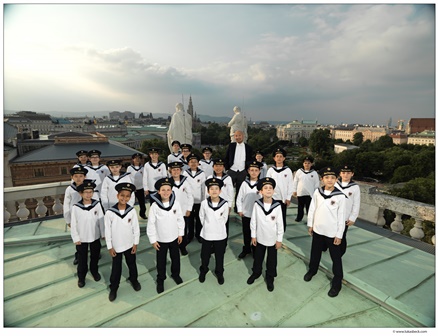 SALISBURY, MD---Since 1924, members of the Vienna Boys Choir have served as musical ambassadors for the country of Austria.

The famed choir returns to Salisbury University 7 p.m. Monday, October 16, in Holloway Hall Auditorium. The concert is part of SU's fall "Best of the Best" cultural events series.

With nearly 100 members from kindergardeners to middle school students, the group is a modern-day descendant of the boys choirs of the Viennese Court, dating to the 15th century.

Now under the artistic direction of Gerald Wirth, the choir has recorded a number of Christmas and other compilations. Popular albums have included Wiener Sängerknaben Goes Christmas (2003), Merry Christmas from the Vienna Choir Boys (1982) and The Little Drummer Boy (1968, featured in that year's Rankin/Bass TV special of the same name). Disney provided a fictitious look at the choir in the 1962 film Almost Angels, which featured several real-life members.

The New York Times has called the choir's members "bright, light voices through the centuries." The Washington Post has lauded their "totally disciplined voices tempered by a singular sense of ease and consistency."

The group's repertoire includes works by composers such as Bach, Beethoven, Biber, Handel, Haydn, Mozart and Schubert, as well as traditional Austrian songs.

Sponsored by SU's Cultural Affairs Office, admission to the choir's performance is free and the public is invited. Advance tickets, limited to one per person, are required.

Tickets for students, faculty and staff are available at the Guerrieri Student Union Information Desk beginning Friday, September 15. Remaining tickets will be available to the greater community beginning Friday, September 22. Tickets are limited to one per person and may not be reserved via phone or online.

For more information call 410-543-6271 or visit the SU website at www.salisbury.edu.