Wednesday, March 25, 2015
United Way of the Lower Eastern Shore Honors SU Leaders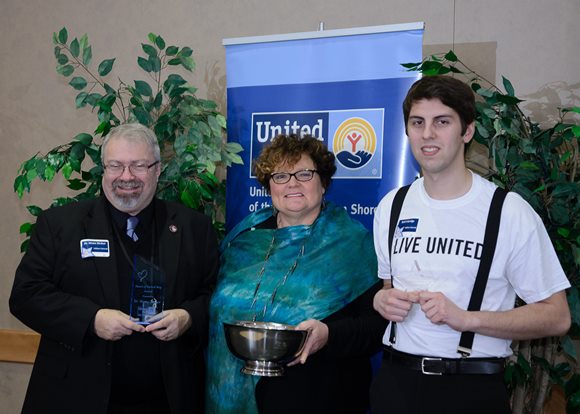 SALISBURY, MD---Several Salisbury University leaders, from the President to a student volunteer, have been honored by the United Way of the Lower Eastern Shore for giving back to the community.
SU President Janet Dudley-Eshbach received the organization's prestigious Jim Barrett Community Leadership Award for exemplifying philanthropic leadership. Dr. Memo Diriker of SU's Business, Economic and Community Outreach Network (BEACON) earned the Heart of the United Way Award. Senior Kyle Eskridge was recognized with the inaugural Student United Way Volunteer of the Year Award for an SU student.
More than 250 community members and nearly 80 organizations attended the awards ceremony at the University of Maryland Eastern Shore.
Named for a charismatic community leader, the Barrett Award honors individuals who are inspirational, generous, compassionate and community minded. Dudley-Eshbach was applauded for being "the ultimate personification of exceptional leadership, enthusiasm, aspiration and drive all rolled into one."
"Her community leadership support and accomplishments for the Lower Eastern Shore of Maryland in the past 15 years could actually take the next 15 days to recite," said Kathleen Mommé, United Way of the Lower Eastern Shore executive director, citing how Dudley-Eshbach has taken the University to new heights of academic prestige, inspiring a culture of community involvement and diversity.
Under her leadership, in 2013, the SU Student United Way Chapter was established as the first university student United Way chapter in Maryland. Her endorsement of the local United Way and encouragement of SU faculty and staff to support it through the Maryland Charity Campaign also have doubled the contributions of SU employees. Her efforts to unite SU with the United Way to impact the community were called "historical."
Past Barrett Award recipients include Leighton Moore, Mitzi Perdue, Morgan Hazel, Marty Neat, Jim Perdue, Tony Sarbanes, Dr. Peggy Naleppa, John Allen and Peggy Bradford.
Diriker's award is bestowed upon an exceptional volunteer leader who embodies what it means to LIVE UNITED and personifies such United Way values as inclusiveness, commitment and humility.
Diriker's reputation "precedes him wherever he goes as he is very well known for his huge heart, expertise in business, marketing, leadership, community service and passion for all he sets his mind too," Mommé said. He has been a strong supporter for the SU Student United Way, and has been actively involved on the Wicomico Campaign Team, Holiday Ball committee and Strategic Planning committee in addition to co-chairing its health initiative team and serving on its board of directors.
Eskridge was honored for being a "shining" and "up and coming" community star, and a dedicated member of the student chapter since it formed. Currently serving as its president, he has helped grow the club into an "incredible force" of community service. He currently leads a network of over 200 students who have positively impacted over 2,100 local individuals and families with 53 volunteer projects to date. He has spearheaded club planning and recruitment, membership meetings, the successful Halloween 5K Dash/Zombie Run fundraiser and a plethora of community service projects.
Dudley-Eshbach also recently was named an Influential Marylander by the Maryland Daily Record. Previously, she was named among its Most Admired CEOs and, three times, among Maryland's Top 100 Women, placing her in the Circle of Excellence. Diriker also is a Daily Record Influential Marylander.
Pictured above, from left, are Diriker, Dudley-Eshbach and Eskridge.
For more information, call 410-543-6030 or visit the SU website at www.salisbury.edu.