Two SU Faculty Earn $80K USM Elkins Professorships
Monday August 17, 2009
SALISBURY, MD---Although Drs. Michael Scott and Danny Ervin of Salisbury University teach in different schools, they share a passion for sustainability.
For their respective efforts in this evolving field of study, Scott, of the Geography and Geographic Sciences Department in the Richard A. Henson School of Science and Technology, and Ervin, of the Economics and Finance Department in the Franklin P. Perdue School of Business, have earned the University System of Maryland's (USM) prestigious Wilson H. Elkins Professorship. The honor includes an $80,000 award for each professor.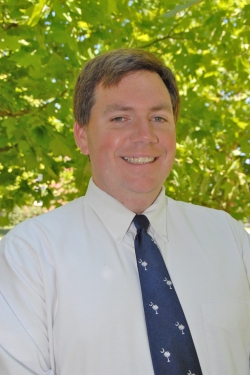 In 2004 Scott established the Eastern Shore Regional Geographic Center, an organization that seeks to provide geographic information systems (GIS) technology, data, support and training to local governments. Since then, the center has been engaged in activities as diverse as tracing pollution in septic systems for the Maryland Department of the Environment, surveying sensitive wetlands in Georgia, and digitizing Captain John Smith's 1612 exploratory map of the Chesapeake Bay.
Scott is also the founder of SU's GIS—public administration master's program, which became the first of its kind in the nation in 2007. That same year, he co-founded the local Digitizing Delmarva Heritage and Traditions initiative with PAC 14. For his efforts, he has earned the USM's highest faculty accolade—the Regents Award for Excellence—and an Award for Outstanding Contributions to GIS in Maryland. He has also served on the boards of area organizations including the Westside Historical Society, Pemberton Historical Park Advisory Board and Mid-Atlantic Division of the Association of American Geographers.
"Salisbury University is proud of the many accomplishments of Dr. Michael Scott," said SU President Janet Dudley-Eshbach. "His academic achievements, professional success and service to the community provide a strong example to his colleagues and students while being instrumental in Salisbury's quest to extend the University's name and excellent reputation beyond the Eastern Shore.'"
Scott plans to use his Elkins Award to create software toolkits that bring the power of GIS technology to regional governments, communities and non-profit organizations, as well as provide training to help officials use these toolkits to address such problems as environmental decay and concentrated crime. The software will be developed by SU graduate students and implemented by undergraduate geography majors.
"Without the amazing ESRGC team, and support of the MidShore Regional and Tri-County councils, none of my work would be possible," Scott said. "The Regents recognition of SU professors with this award is a testament to the faculty as a whole and our focus on the best things about a public university. The honor is humbling and I can't wait to get to work!"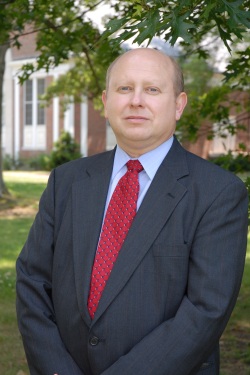 Ervin has long been interested in energy markets and regulation, a passion that in 2006 led him to found ShoreENERGY, an advisory group that addresses the need for practical and scholarly research on Eastern Shore energy sources and consumption. During the program's first year, Ervin led a conference focusing on transmission grid congestion.
The second year his studies examined renewable energy. He testified before the Maryland Public Service Commission on electricity forecasts and economic influence. He led students in the study of multiple energy sources including wind power and ethanol. He also partnered with SU's Institute for Public Affairs and Civic Engagement on educational programs and developed course outlines for potential class partnerships that include studies of energy product finance and risk management.
"Perhaps the most important aspect of Dr. Ervin's accomplishments is his interaction with students," said Dudley-Eshbach. "His presentation on nuclear power at Salisbury University's Thomas E. Bellavance Honors Program generated much discussion and ignited student interest in the case for and against nuclear energy." He has since spoken on the topic in national forums, including Fortune magazine.
"It is a great honor to receive the Elkins award," said Ervin, who will use it to expand ShoreENERGY in 2009-10. "This award will allow me to provide additional research to better understand the energy needs of Maryland's Eastern Shore and the mid-Atlantic region." He plans to investigate the economic aspects of electricity-generating technologies and further research renewable energy resources with a concentration on wind, solar and hydrogen energy.
The Elkins Professorship was established to perpetuate the name and contributions of Wilson Elkins, a former Rhodes Scholar who led the University of Maryland to new levels of distinction as its president from 1954-1978. When the University System of Maryland began in 1988, Dr. Elkins agreed that his professorship should extend to the entire USM family.
Only four other SU faculty have earned the Elkins Professorship since then: Dr. K. Peter Lade, faculty in the History Department, in 1999; Drs. Harry Basehart and Fran Kane, co-directors of the Institute for Public Affairs and Civic Engagement, together in 2004 and 2005; and Dr. Brian Polkinghorn, executive director of SU's Center for Conflict Resolution, in 2007 and 2008.
For more information call 410-543-6030 or visit the SU Web site at www.salisbury.edu.