Thursday, April 28, 2016
Two New Green Fund Projects Implemented at SU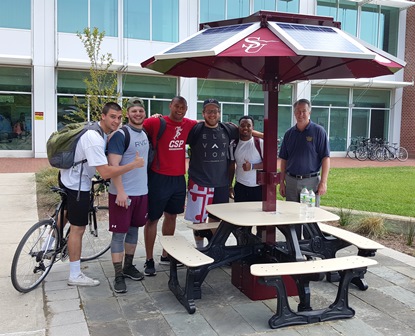 SALISBURY, MD---Salisbury University students have new ways to charge their devices and learn about plant species native to the Eastern Shore thanks to two new SU Green Fund projects.

A new Solar Dok picnic table, equipped with solar panels, recently was installed near Henson Science Hall as a Green Fund project jointly proposed by the Environmental Studies Department, Environmental Students Association and Green Floor Living Learning Community.

At the table, students may use stored solar energy to charge their smartphones, tablets and other devices with USB or standard plug inputs while chatting, studying or dining. A push-button requirement and timer ensure energy is not wasted when not in use. Solar power also is used to light the table and its benches at night.

According to Wayne Shelton, director of campus sustainability and environmental safety, the table is part of a pilot program. If successful, SU may see more installed in the future.

"This seems to be an up-and-coming technology, and it aligns with our mission of being sustainable," he said.

SU's Green Fund also supported the planting of a native species garden outside the Link of Nations, between the Commons dining hall and Guerrieri University Center, during the Student Government Association's (SGA's) annual Earth Week celebration.

Proposed by Julia Howell, SGA vice president of sustainability and president-elect, the garden will include educational signage identifying the plants and their functions. Students designed and planted the garden with guidance from SU's Horticulture Department.

Green Fund initiatives are paid for each semester from money the University collects from students in sustainability fees ($2.50 per semester). Projects may be proposed by individual students or teams involving students.

Beyond the Green Fund, SU continues to take actions to make the University more sustainable each semester. The second phase of an ongoing lighting upgrade project, for example, should ensure that nearly all exterior lighting on campus is converted to LEDs by the end of this spring.

For more information call 410-543-6030 or visit the SU website at www.salisbury.edu.