Thursday, January 15, 2015
Tickets Sold Out for Russian National Ballet at SU March 10-11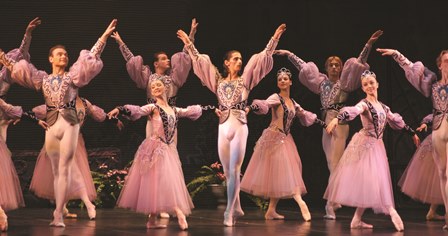 SALISBURY, MD---One of the world's most renowned dance companies comes to Salisbury University from Tuesday-Wednesday, March 10-11, as SU's Cultural Affairs Office presents the Russian National Ballet. Tickets for the performances are no longer available.

The troupe performs two classics: Swan Lake on Tuesday, March 10, and Cinderella on Wednesday, March 11. Curtain is 8 p.m. in Holloway Hall Auditorium.

Elena Radchenko, former principal dancer of the Bolshoi Ballet, is the company's artistic director, assuming the role in 1994 via presidential decree. The troupe was founded in the late 1980s, when many of the Soviet Union's great dancers and choreographers were exercising their newfound freedoms.

The productions presented at SU, with Bolshoi backdrops and costumes, showcase some of Russia's leading dancers of today. Performed to music by Tchaikovsky, Swan Lake tells the story of Prince Siegfried, who vows to break a curse placed upon the maiden Odette by the evil sorcerer Von Rothbart.

With a company of 50 dancers, Cinderella combines some of Prokofiev's most lyrical music with gorgeous costumes and backdrops as the well-known tale of Cinderella and Prince Charming is told via dance and song.

The Russian National Ballet's Swan Lake is "the real thing" and "a cut above," said The Washington Post. The Toledo Free Press has called the company "impressive" and "dazzling."

Special dining events capping Wednesday's performance include a Royal Tea Party and Story Time featuring finger sandwiches, dessert, tea and lemonade 4 p.m. Wednesday, March 11. Tickets for this event are sold out, as well.

University Dining Services presents a Cinderella's Ball Dinner from 4:30-7:30 p.m. The menu includes steamship round of beef with Merlot au jus, chicken Champagne, creamy artichoke lasagna, Duchess-style potato bake, green beans Almandine, sweet potato biscuits, dinner rolls, Cinderella cupcakes, French silk raspberry pie bars, fairy godmother's pretzel wands and mock Champagne punch. Cost is $12, $7.28 for children 12 and under.

The offices of the President, Provost, Fulton School of Liberal Arts and Cultural Affairs sponsor the ballet's performances at SU.

For more information call 410-543-6271 or visit the SU website at www.salisbury.edu.