Monday, September 21, 2015
Tickets Available for Oct. 13 Tibetan Prime Minister Talk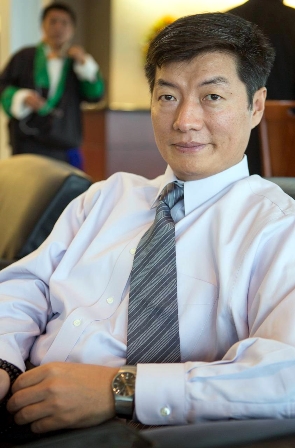 SALISBURY, MD---Dr. Lobsang Sangay, sikyong (prime minister) of Tibet and political successor to His Holiness the Dalai Lama, delivers the message "Democracy and the Third Way" 4 p.m. Tuesday, October 13, at Salisbury University.

His talk, part of the "One Person Can Make a Difference" lecture series, presented by SU's Bosserman Center for Conflict Resolution, is in Holloway Hall Auditorium.

Sangay was democratically elected as Tibet's sikyong (formerly known as the "kalön tripa," the country's term for prime minister) in 2011. His selection followed the Dalai Lama's proposal to devolve his political power to an elected leader under the charter of the Tibetan government in exile.

In his role as the nation's leader, he has emphasized the importance of seeking a peaceful, non-violent solution to regaining national autonomy of Tibet within the Chinese constitution, similar to systems in place in Hong Kong and Macau.
Throughout his career, he has interacted with and trained Tibetan youth leaders on strategies for effective engagement with Chinese scholars and students. His efforts to galvanize the Tibetan diaspora emphasize policies that promote widespread, high-quality education and also youth empowerment.

Admission to his talk is free, but tickets are required. Seating is limited. Tickets are available in advance at the Guerrieri University Center Information Desk beginning Friday, October 2, with a limit of two per person. The public is invited.

Sangay's visit is sponsored by the SU President's, Provost's, Student Affairs, and Graduate Studies and Research offices; Charles R. and Martha N. Fulton School of Liberal Arts; Bellavance Honors Program; Conflict Analysis and Dispute Resolution Department; and Student Appropriations Board.

For more information call the Bosserman Center at 410-219-2873 or visit the SU website at www.salisbury.edu.