Friday, September 6, 2013
Tibetan Monks Return to SU September 18-22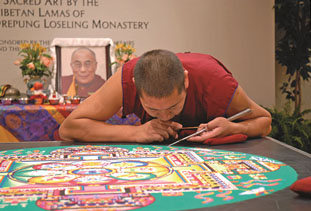 SALISBURY, MD---The monks of Tibet's famed Drepung Loseling Monastery visit Salisbury University this fall to spread their message of peace and understanding.

The monks are in residence Wednesday-Sunday, September 18-22, constructing an elaborate sand mandala which they believe brings purification and healing. The visit, their fourth to SU, comes with the blessings of His Holiness the Dalai Lama.

During their busy days at the University, the monks will construct their mandala in the Great Hall of Holloway Hall as part of a painstaking ritual during which millions of grains of colored sand are laid out in a complex pattern. The public is invited to view the entire process and participate in part of its ceremonies. Events include:

• Opening ceremony — Wednesday, September 18, noon

• Mandala construction — Wednesday-Friday, September 18-20, 10 a.m.-5 p.m. and Saturday, September 21, 10 a.m.-7 p.m.

• Mandala consecration and closing ceremony — Sunday, September 22, noon-2 p.m.

• Dispersal ceremony — Sunday, September 22, 2 p.m., Salisbury City Park.

Construction of the mandala also may be viewed online via live streaming at http://www.salisbury.edu/culturalaffairs/monks.

Several other events are held in connection with the monks' visit. SU's "Revolutionary" fall film series begins 7 p.m. Monday, September 16, with The Buddha: the Story of Siddhartha, directed by Emmy Award winner David Grubin and narrated by Richard Gere.

On Tuesday, September 17, William Edelglass, co-editor of the Journal of Environmental Philosophy and Buddhist Philosophy: Essential Readings, speaks on "Global Climate Change, Social Justice and Buddhist Ethics." The talk is 7 p.m. in Perdue Hall's Bennett Family Auditorium. On Wednesday, September 18, he discusses "Sand Mandalas and the Buddhist Path: An Introduction to the Amitayus Mandala, the Buddha of Boundless Life" at 3 p.m. in the Holloway Hall Social Room. His talks are sponsored by the Environmental Studies Department and the Charles R. and Martha N. Fulton School of Liberal Arts.

As part of its International Dinner Series, University Dining Services presents "A Taste of Tibet: Dining on the Roof of the World" 4:30-7:30 p.m. Wednesday, September 18, in the Commons. Cost for the dinner is $11.53, $7 for children ages 5 and under.

Admission to all other events is free and the public is invited. For more information call 410-543-6271 or visit the SU Web site at www.salisbury.edu.