Wednesday, June 24, 2015
Terry Allen Memorial Award Honors Student Military, Community Service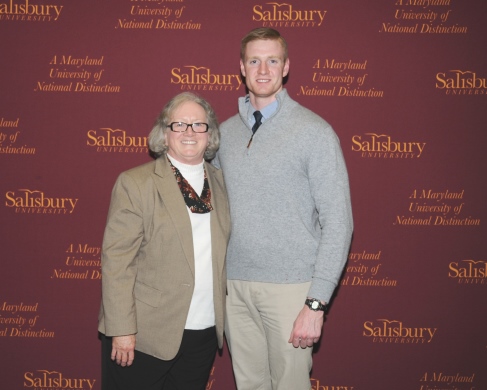 SALISBURY, MD---Two of Salisbury University's spring 2015 graduates earned the campus' Terry D. Allen Memorial Award for Military Veterans or Active Military Persons.
Connor Cooney, a management major, was the inaugural recipient. Nicholas Engelhardt, a geography and earth science major, was the second.
The award was created by Dr. Diane Allen, SU's provost and senior vice president of academic affairs, in memory of her late husband, Terry. A retired lieutenant colonel in the U.S. Army Reserve, Terry quickly became part of the campus community after the Allens arrived in 2009, and helped advise SU's Student Military and Veterans Association (SMVA) until his death in 2013.
"I thought of Terry as a mentor, leader and friend," said Cooney, SMVA vice president for two years. "He would always present the wants and needs of the Salisbury military community to the administration in hopes of making the campus even more veteran friendly. Terry was always willing to lend a hand or ear, and was someone I could count on. He was one of my biggest supporters and had a very loving and selfless heart. I was honored to be the first person to receive the award in his memory and I hope to continue to live a life that is as fulfilling as his was."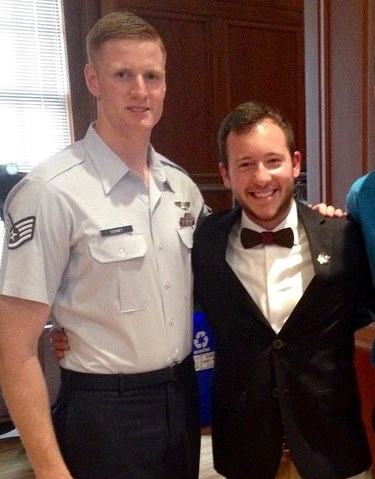 Engelhardt, who was SMVA president for two years, added: "Terry Allen was an active part of our group until his passing. He helped organize, support and mentor us, and helped advocate for us on campus. He meant a lot to us."
The Allen Award is being given annually to a veteran or active military student who exemplifies outstanding contributions to the greater campus community through service at the junior or senior class levels.
"Terry was very proud of the service the young men and women in the student veteran group give to our country," Allen said. "I know he would be particularly pleased to know that Connor and Nick were the first two recipients of an award in his name."
Engelhardt twice planned the University's Veterans' Day ceremony and worked in its Veterans' Affairs Office. He also was a member of the Sigma Tau Gamma fraternity and, in the community, is the Barbershop Harmony Chorus director. Prior to enrolling at SU, he was an engineer in the U.S. Navy from 2007-11. He was stationed in Norfolk, VA, and completed two deployments in the Mediterranean and Indian Ocean. He said the award will help as he begins the Master of Arts in Teaching program at SU in January. After completing contractual work for SU's Eastern Shore Regional GIS Cooperative, he hopes to become an earth science teacher.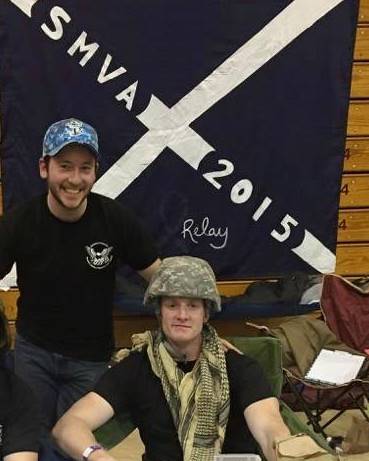 Cooney is a staff sergeant in the U.S. Air Force with six years of service. He is an aircrew member of the C-5M Super Galaxy stationed at Dover Air Force Base. He has served overseas in more than 24 countries and has flown combat and combat support missions in Iraq and Afghanistan in support of the Enduring Freedom, New Dawn and Freedom Sentinel operations. He used his award to help pay for books and fees for his summer internship. He will continue to serve the U.S. after graduation.
Engelhardt is a 2007 graduate of Wallenpaupack High School in Hawley, PA. He is the son of Karen Engelhardt of Las Vegas and Werner Engelhardt of Ft. Bragg, NC. Cooney is a 2010 graduate of Broadwater Academy in Exmore, VA. He is the son of Deborah and John Wunder of Westover, MD.
Pictured, from top, Allen with Cooney; Cooney with Engelhardt; and Engelhardt with Cooney at SU's Relay For Life.
For more information, call 410-543-6030 or visit the SU website at www.salisbury.edu.