Tanzania Ambassador, Journal Editor Keynote Conflict Resolution Discussion at SU Friday, October 25
Thursday October 17, 2013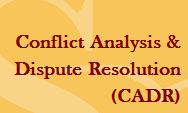 SALISBURY, MD---Liberata Mulamula, Tanzania ambassador to the United States, and Dr. Hilda Dunkwu, managing editor of the Institute of Multi-Track Diplomacy online journal Conflict Perspectives, keynote a panel discussion on conflict resolution and organizational development 1-3:30 p.m. Friday, October 25, at Salisbury University.
Held in Teacher Education and Technology Center Room 153, the discussion is sponsored by SU's Conflict Analysis and Dispute Resolution Graduate Program.
Mulamula joined the Tanzanian Foreign Service in 1981. Her positions have included serving as a delegate to the United Nations and as senior advisor to the president of the Republic of Tanzania, among others. From 1992-1994, she participated in the Rwandese peace talks in Arusha. She also was a member of the United Nations/Organization of African Unity Expert Group on the Denuclearization of Africa, leading to the Treaty of Pelindaba.
Dunkwu is an attorney and mediator who has worked as a personnel specialist with the U.S. Navy on Equal Employment Opportunity compliance and assessment. She also worked in the banking industry as a corporate secretary, advising boards of directors on human resource-related matters. Her areas of expertise include alternative dispute resolution; organizational programming design, monitoring and evaluation; and organizational and international conflict training.
Panelists discuss the causes and implications of conflict within and between organizations and how these conflicts may be addressed constructively. Along with Dunkwu, they include:
Dr. Vinita Agarwal, Communication Arts Department
Simeon Ananou, SU chief information officer
Dr. Leonard Arvi, Economics and Finance Department
Gloria Chibueze Azinge, conflict analysis and dispute resolution graduate student
Dr. Todd Becker, Conflict Analysis and Dispute Resolution Department
Rhett Burden, University of Maryland Eastern Shore (UMES) residence life area director and substitute professor for sociological and human development
Dr. Greg Cashman, emeritus faculty, Political Science Department
Dr. Jennifer Keane-Dawes, dean, UMES School of Graduate Studies
Haleigh LaChance, Bosserman Center for Conflict Resolution research associate
Fieyim Njonguo, conflict analysis and dispute resolution graduate student
Jennifer Williams, SU conflict analysis and dispute resolution alumna
Jan Wiseman, executive director, Greater Salisbury Committee
Anthony Yost, conflict analysis and dispute resolution graduate student
Dr. Jacques Koko, Conflict Analysis and Dispute Resolution Graduate Program director, moderates.
Admission is free and the public is invited. For more information call 410-543-6030 or visit the SU website at www.salisbury.edu.