Tuesday, February 23, 2010
'Students on Strike' Author John Stokes Speaks at SU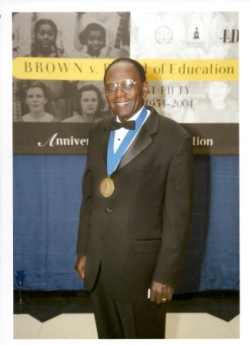 SALISBURY, MD---In Students on Strike: Jim Crow, Civil Rights, Brown and Me, author John Stokes of Lanham, MD, recounts his experiences growing up in oppressive conditions of the Jim Crow South.

As part of Salisbury University's African-American History Month celebration, he recently discussed his memoir at SU. He was introduced by Dr. Lois Wolfe, who contributed to the book along with Dr. Herman Viola.

In the book, Stokes reveals, for the first time ever, the inner workings of a student coalition that he led in planning and executing a 1951 strike. The group was demanding better conditions at the all-black Robert Russa Moton High School they attended in Farmville, VA.

Afterward, the NAACP filed a lawsuit that sought to end segregated schools in all of Prince Edward County. Stokes was a plaintiff. That case was combined with four others into Brown v. Board of Education, a landmark civil rights decision by the Supreme Court that forever changed life in the U.S.

"We were pleased to welcome Mr. Stokes to campus to share his moving story," said Vaughn White, director of Multicultural Student Services at SU. "Against all odds, he joined with other students to fight for civil rights, and ultimately helped change the course of history in our nation."

Stokes was a teacher, assistant to the superintendent, and principal in Baltimore City Public Schools before retiring in 1994. Since then, he has served as an ad hoc member of a Virginia General Assembly Steering Committee that secured $2 million for a Brown v. Board of Education Scholarship Program and Fund to assist those affected by the closure of public schools to avoid desegregation.

For more information call 410-543-6030 or visit the SU Web site at www.salisbury.edu.