Friday, May 6, 2011
Spickler Named SU's Outstanding Research Mentor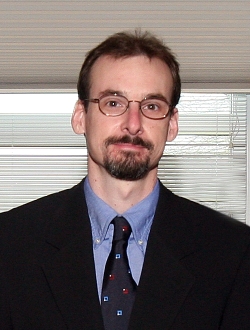 SALISBURY, MD---Dr. Don Spickler of the Mathematics and Computer Science Department is Salisbury University's Outstanding Research Mentor for 2011.
Announced at the 10th SU Student Research Conference, the honor celebrates faculty who are excellent supervisors of student research and scholarly work.
"Dr. Spickler has amassed a truly remarkable record of working with undergraduate researchers," said Dr. Clifton Griffin, dean of graduate studies and research. "He is an extremely passionate and effective mentor and teacher."
Since 2003, with Spickler's guidance, some 21 students working on 15 different research projects have presented at SUSRC. Some of his students have presented at the National Conference on Undergraduate Research and at discipline-specific meetings across the state and region. Spickler has also delivered some 30 talks in 10 years at SU.
In addition to the sheer number of projects, colleagues have also noted the breadth of problem-types and fields of inquiry Spickler's students have explored.
"[Dr. Spickler] has an uncanny ability to inspire students and to help them develop a curious interest into a serious research project," one stated. Instead of being tied to faculty work, most all projects he oversees are student-initiated and driven.
Also known for his teaching, Spickler is the 2010 recipient of the prestigious John Smith Teaching Award from the Mathematical Association of America's Maryland/Virginia/District of Columbia section. He also is a 2007 recipient of the University System of Maryland's Regents Award for Excellence in Teaching.
For more information call 410-543-6030 or visit the SU Web site at www.salisbury.edu.