Thursday, August 27, 2015
ShoreCorps/PALS Members Recognized for Year of Service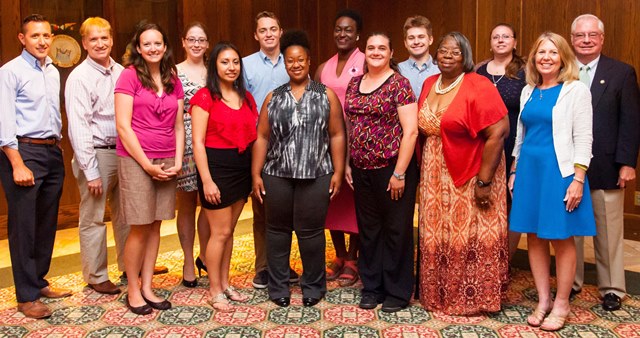 SALISBURY, MD---ShoreCorps/PALS (Partnership for Adolescents on the Lower Shore), the AmeriCorps program at Salisbury University, recently celebrated the accomplishments of its members during its 20th annual recognition ceremony.

Family, friends and site supervisors attended and offered support during the celebration.

Some 19 members were honored for their year of service with local organizations and agencies in Wicomico, Dorchester, Talbot and Caroline counties. They included Brian Black, Miles Butz, Danielle Carty, Pat Colliton, Rosalie Corbin, Deanna Dunn, La'Asia Johnson, Malisa K'Shaya, Carlyse Matthews, Brittany Mech, Allison Merriken, Jordan Murphy, Mercy Ochieng, Katrina Ositelu, Mary Ringgold, Cindy Saavedra, Jessica Schottroff, Cody Wehlan, and Thelonious Williams.

Guests presenting remarks included Maryland Delegate Mary Beth Carozza (38C), who keynoted the celebration, and SU Interim Associate Provost Jason McCartney. Johnson and Ringgold reflected on their year of national service.

ShoreCorps/PALS began its service to the community in 1995, the year after AmeriCorps was founded. The program is committed to providing members and sites with excellent service and an attitude of "getting things done."

Members serve in positions providing mentoring, homework assistance and conflict resolution; emergency preparedness and health education programs; advocacy for senior citizens and care giver support; conducting community outreach activities; and recruiting and managing volunteers to increase the capacity of the partner site.

This year, members provided assistance to over 16,000 youth and 7,000 aging seniors on the Eastern Shore. They recruited and managed over 1,600 volunteers.

"I continue to be impressed with the dedication of AmeriCorps members to the Eastern Shore community," said Dr. George Whitehead, project director.

ShoreCorps/PALS is currently recruiting community partners and new members as the program begins its 21st year. For more information call 410-543-6137 or visit the organization's website at www.salisbury.edu/americorps.