Thursday, April 19, 2012
Seidel Team Presents at National PDS Conference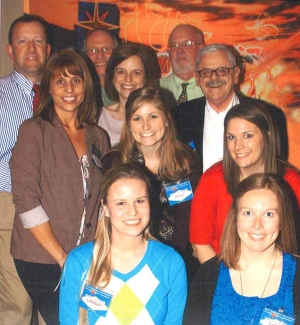 SALISBURY, MD---Engaging skits about the environment, special writing projects, Web page design, crisis planning—these are some of the topics Salisbury University education students presented at the 2012 Professional Development Schools (PDS) National Conference in Las Vegas.

"I attended one of their sessions and thought I was listening to a group of successful veteran teachers," said Dr. Dennis Pataniczek, dean of the Samuel W. and Marilyn C. Seidel School of Education and Professional Studies. He added that the students received many compliments from other campuses.

With them at the conference were support faculty and staff. Students representing SU were senior Kelly Thomas, an early childhood education major from Middletown, MD; graduate student Jennifer Lewis, an elementary education major from Glen Burnie, MD; and graduate student Lindsay Wild, an elementary education major from Joppa, MD.

Together, they talked about their PDS site internships, sharing examples of lessons planned and delivered with mentor teachers. They also discussed their action research projects, such as studying the impact of sensorimotor breaks on work completion. Their legacy projects addressed school improvement goals including researching and creating recommended book lists. In a second "open mic" session, they shared wishes for future PDS programs.

.: Related Sites :.

.: Related News :.

With them were Dr. Carol Wood, Seidel associate dean; Dr. Keith Connors and Sara Elburn of the Teacher Education Department; Dr. Ron Siers of Education Specialties; Paul Gasior, field experiences coordinator; and Stacie Siers, PDS coordinator.

Pataniczek and Stacie Siers discussed assessment strategies for building successful PDS sites with Wood, and the two-way advantages of PDS partnerships with Gasior. Conners and Elburn teamed with students to discuss how to link student assignments with tangible school goals.

Ron Siers and Elburn partnered with Cathy Ramey of Mardela Middle and High School to present a case study on internships. Pataniczek joined Judy Beiter of Anne Arundel County Public Schools, and Maggie Madden and Cheri Wittman of the Maryland State Department of Education, to explore using the Blue Ribbon Panel's 10 design principles, including using technology, to assess and improve clinical preparation across the state.

In 2011, SU was one of only five campuses nationwide honored with the Exemplary PDS Achievement Award from the National Association of Professional Development Schools. Currently, some 35 schools in seven counties partner with SU on PDS programs. For more information, call 410-543-6030 or visit the SU Web site at www.salisbury.edu.