Monday, August 4, 2014
Sea Gulls Launch Revamped Maroon & Gold Club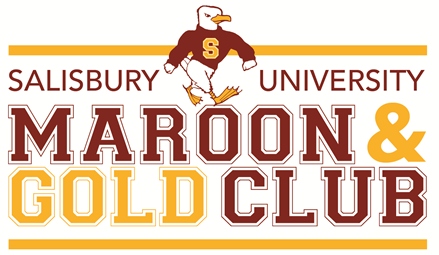 SALISBURY, MD---Supporters of Salisbury University athletics programs, including alumni, parents, friends and corporate partners, are invited to cheer for their favorite Sea Gull teams as members of the Maroon & Gold Club.

"From national championships to new facilities, the Sea Gulls reputation and quest for excellence in athletics continues to grow," said Thom Young '78, president of the Maroon & Gold Club board of directors. "We believe the name change will help harness some of the current excitement for SU athletics, including the winning of three national championships by women's lacrosse and hurdler Luke Campbell last spring, the opening of new outdoor tennis courts and progress on the construction of a new stadium."

The Maroon & Gold Club supports and enhances University athletics by raising funds through membership and special events. The athletics booster organization was formerly called the Varsity Club.

"We wanted to make sure that all Sea Gull supporters were included, even if they didn't play one of our 21 intercollegiate sports," said Erin Smith '09, '11, athletic development officer. "Anyone from the campus or greater community who proudly dons our school colors, cheers on our student-athletes or believes in our athletics programming can be part of this new and improved organization."

Maroon & Gold Club benefits start at $50. Higher giving levels include perks such as season passes, special game parking, receptions and more.

For information, contact Smith at 410-677-5069 or emsmith@salisbury.edu, follow the Maroon & Gold Club on Facebook at www.facebook.com/MaroonandGoldClub or visit its website at www.suseagulls.com/Maroon&GoldClub.