Friday, January 31, 2014
Sea Gull Century Scholarships and Grants Awarded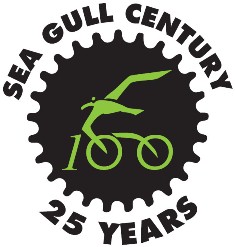 SALISBURY, MD---In addition to raising thousands of dollars annually for charities, Sea Gull Century cyclists also support the Salisbury University community.

Proceeds from the 25th anniversary ride in October 2013 provided $5,500 in scholarships for 13 students, as well as $5,000 for 15 grants for faculty and staff.

The students all participated in the ride or served as event volunteers. They included seniors Aaron Curry, a physics major from Landover, MD; Mercedes Mangold, an exercise science/allied health major from Linwood, NJ; Katie McGahagan, an athletic training major from Baltimore; Karly Moore an exercise science/health sciences major from Thurmont, MD; Sean Reedy, an athletic training major from Crofton, MD; and Kristen Russo, an exercise science/allied health major from Bel Air, MD.

Also, receiving scholarships were juniors Megan Crabill, a communication arts and marketing management major from Glenwood, MD, and Joseph Watso, an exercise science major from Willards, MD; sophomore Megan McGowan an exercise science major from Cambridge, MD; and freshmen Ayodoyin Olorunsola, a biology and chemistry major from Perry Hall, MD; Jacob Fazio, an accounting and outdoor education leadership major from Frederick, MD; Jamie Potter a communication arts major from Kensington, MD; and Bridgette Anne Vogan, an exercise science major from Elicott City, MD.

Faculty and staff recipients were: Drs. Stephen Hardy of Advancement Services; Chrys Egan of Communication Arts; Tylor Claggett and Keri Manakyan of Economics and Finance; Jill Caviglia-Harris and Richard Melstrom of Economics and Finance/Environmental Studies; Celine Carayon, Tom Goyens and Kristen Walton of History; Catherine Otto and Tom Pellinger of Health Sciences; Carolina Bown of Modern Languages and Intercultural Studies; Robert Kirsch of Philosophy; Sarah Surak of Political Science/Environmental Studies; and Eileen Gilheany of Social Work.

Selected annually by a Sea Gull Century committee, the awards are for the spring semester. Scholarships ranged from $250 to $1,000, and students must have a minimum 3.0 grade point average. Faculty grants were from $275 to $500. Their awards supported presentations on topics ranging from medical laboratory science skills to the choreography of anarchism.

For more information call 410-677-5416 or visit www.seagullcentury.org.