Friday, February 15, 2013
Sea Gull Century Scholarships Awarded to 11 Students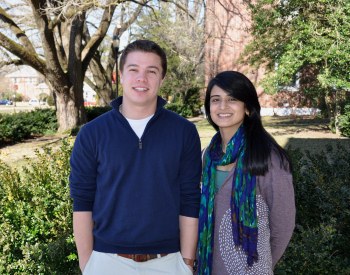 SALISBURY, MD---Sea Gull Century cyclists raise thousands of dollars annually for charities including the Leukemia and Lymphoma Society and Habitat for Humanity. One other group that benefits is Salisbury University students.

Proceeds from the 2012 century and extra donations from riders provided $6,000 in scholarships for 11 students who have participated or served as event volunteers.

They include sophomores Kathryn Anderson, an athletic training major from Parkville, MD; Blake Bussard of Ebensburg, PA, who is earning a dual-degree in biology and environmental/marine science; Nicole Frushour, an athletic training major from Myersville, MD; and Rizia Sultana, an art (graphic design track) and marketing major from Salisbury.

Also, juniors Aaron Curry, a physics major from Landover, MD; Kristen Russo, an exercise science major from Bel Air, MD; and Kelsey Scanlan, a health/physical education major from Hamilton, NJ.

And, seniors Caroline Hayden, an athletic training major from Mount Airy, MD; Corey Salemi, marketing and communication arts major (public relations track) major from Ellicott City, MD; Anna Steinman, a physical education and exercise science major from Piscataway, NJ; and Zachary Purnell Thomas, an athletic training major from Rockville, MD.

"I really enjoyed helping out with the Sea Gull Century bike ride," Curry said. "It was really nice to see the sense of community that everyone seemed to have. It was also amazing to see how kind words can encourage people to keep going."

"I am so thankful for being chosen to receive this scholarship award from such a wonderful committee and event," Scanlon said. "Sea Gull Century has given me the opportunity to meet new people, explore the sport of cycling, and witness a true community in action. This award will provide my family some financial relief, and motivate me to get even further involved outside of the classroom."

Selected annually by the Sea Gull Century Scholarship Committee, and given through the SU Foundation, Inc., the awards are for use during the spring semester. Students must have a minimum 3.0 grade point average. Amounts range from $250 to $1,000.

Pictured (from left) are Salemi and Sultana. For more information call 410-677-5416 or visit www.seagullcentury.org.