Tuesday, April 28, 2015
Schlehofer Named SU's 2015 Outstanding Research Mentor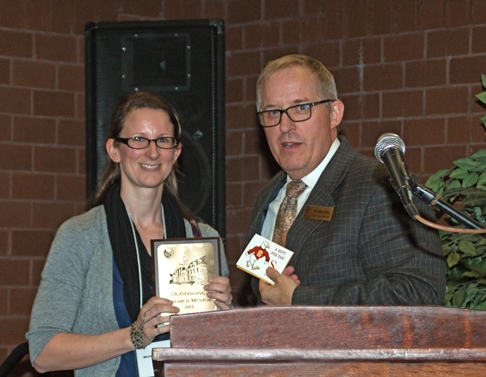 SALISBURY, MD---Dr. Michele Schlehofer, chair of the Psychology Department, is Salisbury University's Outstanding Research Mentor for 2015.

Applauded for "the highest dedication to student mentoring," Schlehofer was honored during the 14th SU Student Research Conference. The award celebrates faculty who are excellent supervisors of student scholars.

Schlehofer is credited with starting a community-based student research project to investigate the need for programs and resources for children and families in Wicomico County. Over the past two years, she has guided 159 student researchers from 11 psychology, communication arts and interdisciplinary studies courses in generating data for the assessment for the Wicomico Partnership for Families and Children (WPFC). During more than 800 hours of research, students have conducted 127 quantitative phone surveys of residents and 21 qualitative interviews with key organizational leaders.

"All of this amazing experience for our students and support for our local community is because Michele initiated an idea," said Dr. Chrys Egan of SU's Communication Arts Department, who led the project with her.

WPFC Director Diana Parnell added: "The value this project provided our office in just student support alone is estimated at around $18,000. Add to that her professional assistance. ... We have formulated a partnership that provides great hands on knowledge for her students and provides us a nice fleet of volunteers."

For alumna Alicia Zahn '13, working on the project through one of Schlehofer's courses ultimately led to a job with WPFC. After being introduced to the agency, she stayed as a summer volunteer and then was hired. "This would not have been even remotely possible without Dr. Schlehofer's strong dedication to community, research and student opportunity," she said.

Since arriving at SU in 2007, Schlehofer also has guided over 40 students on out-of-class research projects, with many resulting in paper and poster presentations at regional or national psychology conferences. An applied social psychologist with personal research interests in community and health psychology, she earned her Ph.D. from Claremont Graduate University in California.

Through her own scholarly publications and presentations, Schlehofer is "modeling success for her students and helping them achieve it for themselves," Egan said, adding that she has especially encouraged young women to pursue research. "She has shaped a leadership identity and ambition for many female students who would not have advanced their education without her mentorship," Egan said.

Pictured is Schlehofer with Dr. Clifton Griffin, SU's dean of graduate studies and research.

For more information call 410-543-6030 or visit the SU website at www.salisbury.edu.