Tuesday, June 2, 2015
Samuel R. Brown Carillon 'Capped' at Guerrieri Academic Commons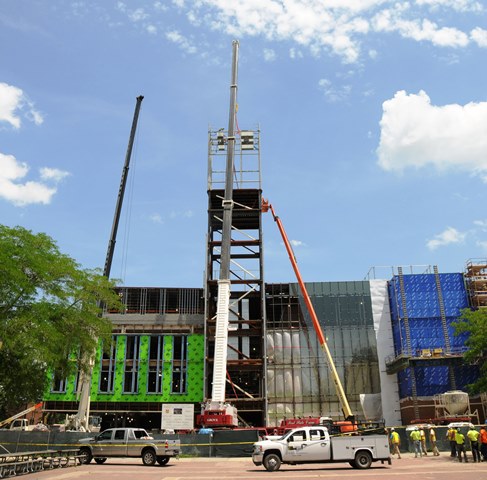 SALISBURY, MD---How tall is the carillon under construction at Salisbury University? Well, the Sea Gull Square Clock Tower and Holloway Hall Bell Tower are 100 feet, and SU's high-rise dorms are 80 feet, according to University officials.
The new carillon tower, at 147 feet, tops them all and will be the tallest structure on the 181-acre campus. It took about half an hour to hoist in place a 45-foot steel cap weighing 16 tons, which will support 48 bronze bells in the bell tower as well as the performance platform.
The bells, from 12 inches to 42 inches in diameter, range in weight from approximately 100 pounds to 5,000 pounds. Two 2.5-ton bells will be custom made in England. Because the tower and cap are so tall, a special 350-ton crane from across the Bay had to be brought in to hoist the carillon cap in place. The crane required special permission to cross the Bay Bridge.
William D. Church of Greenville, DE, donated the carillon in memory of his longtime partner Samuel R. Brown. The carillon is part of the new Patricia R. Guerrieri Academic Commons, scheduled to open by fall 2016.