SU's Wu Sees Multiple Publications
Tuesday May 5, 2015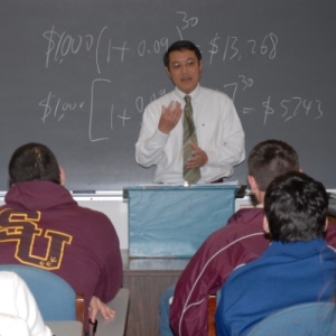 SALISBURY, MD---During his 17th academic year with the Economics and Finance Department in Salisbury University's Franklin P. Perdue School of Business, Dr. Ying Wu's work appeared in a number of scholarly publications, which hallmarked his academic research since joining Salisbury University.

His paper "The Open-Economy Trilemma in China: Monetary and Exchange-Rate Policy Interaction Under Financial Repression" is the lead article in the spring issue of International Finance, a journal by the Council on Foreign Relations (a prestigious U.S. think tank on foreign policy and international affairs). The article modeled China's monetary exchange rate policy, in which sterilization measures insulate base money from the full effects of capital inflow while the accumulation of net foreign assets limits exchange rate appreciation.

"Income Inequality, State Ownership and the Pattern of Economic Growth – A Tale of the Kuznets Curve for China Since 1978," co-authored with Dr. Hong Yao, also of the Economics and Finance Department, is to be published in the summer issue of Atlantic Economic Journal. In the article, they argue that though the Chinese government attempts to balance growth, equality and state ownership in the short run, stubborn state ownership, as well as lopsided growth patterns, jeopardize the balancing effort in the long run.

Wu also has co-authored articles with faculty from Chinese universities, published in several of that nation's leading academic journals this year. These include "The Macroeconomic Impacts of China and Japan on the U.S. During Their Emerging Phases" with Xin Deng of China Foreign Affairs University in New Finance (reprinted in Xinhua Digest); and "On the Economic Constraints for the U.S.-China Commercial Diplomacy" with Lijuan Zhang of Shandong University in Peking University's International Politics Quarterly (reprinted in the Shanghai Review of American Studies).

In addition, Wu completed his post-Fulbright research project beginning in 2013 in collaboration with China Foreign Affairs University. In the past two years, as the chief book editor, Wu travelled to China in summer and winter to lead a research team in investigating the U.S.-China economic relation involving bilateral trade and investment, commercial diplomacy, the Renminbi-Dollar exchange rate, monetary policy, reserve currency, climate change and multilateralism. The research was recently published by Wuhan University Press as the 222-page book Is the U.S.-China Economic Relation a Zero-Sum or Win-Win Game?
For more information call 410-543-6030 or visit the SU website at www.salisbury.edu.
SHARE