Monday, April 7, 2014
SU's Wiencek Earns Light of Literacy Award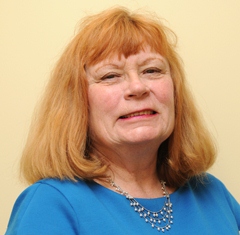 SALISBURY, MD---As director of Salisbury University's John B. and Florence Simmonds May Literacy Center, Dr. Joyce Wiencek arranges and oversees reading tutoring and family outreach for area students from kindergarten through eighth grade.

For this and other accomplishments, Friends of the Wicomico Public Library recently honored her with its Light of Literacy Award in the higher education category. This is the second year the awards have been presented.

According to her nominators, Drs. Maida Finch and Nancy Michelson of SU's Education Specialties Department, Wiencek has nearly quadrupled the number of children served by the center annually since becoming director in 2007, from 53 then to 195 in 2013.

During that time, she also has doubled the number of books at the center, from 400 to 800, and grown its budget exponentially, thanks in part to a $50,000 family literacy grant from the Barbara Bush Family Literacy Foundation of Maryland.

In addition to tutoring, the center offers an annual art poster contest. Reading tutors are SU teacher education and graduate students, who gain skills they can use in their careers.

"Dr. Wiencek tirelessly oversees all of these activities and continually seeks ways to expand the program," Finch and Michelson said in their nomination. "We believe her true impact is not easily measured, however, because how do you quantify the life of literacy the students gain and the skills the tutors learn and will employ in their own classrooms?"

For more information call 410-543-6030 or visit the SU website at www.salisbury.edu.