SU's Venosa Discusses 'Migration Crisis in the Mediterranean' Thursday, September 10
Wednesday August 26, 2015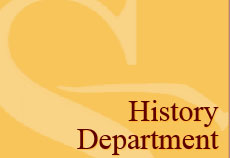 SALISBURY, MD---Dr. Joseph Venosa, Salisbury University assistant professor of African history, inaugurates the SU History Department's "Global Connections, Global Engagements" lecture series Thursday, September 10.
He discusses "Sea of Desperation: Understanding the Human Migration Crisis in the Mediterranean" at 7 p.m. in Teacher Education and Technology Center Room 153.
From January-May of this year, more than 60,000 people attempted to cross the Mediterranean Sea from various points across North Africa. Venosa discusses the historical and political dimensions of this "migration crisis."
Venosa is the author of the 2014 book Paths toward the Nation: Islam, Community and Early Nationalist Mobilization in Eritrea, 1941-61. He also has published in scholarly journals including the International Journal of African Historical Studies, the Journal of Eastern African Studies, and others. He teaches classes on African, Middle Eastern, and global history at SU.
Admission is free and the public is invited. For more information call 410-543-6245 or visit the SU website at www.salisbury.edu.