SU's Stock Researches Kierkegaard in Copenhagen
Wednesday January 14, 2015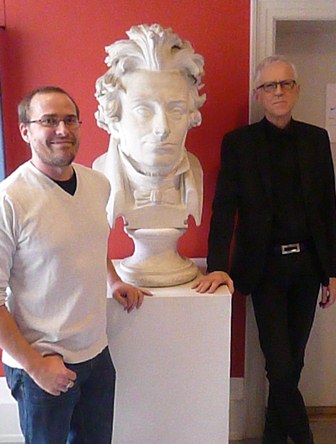 SALISBURY, MD---Søren Kierkegaard is widely regarded as the first existentialist philosopher … but how influential was the theatre on the delivery of his philosophy?
Very, according to Dr. Timothy Stock of Salisbury University's Philosophy Department.
"He was obsessed with the theatre," said Stock, who recently spent a month researching the philospher at the Søren Kierkegaard Research Center at the University of Copenhagen. "No one has taken his thoughts on the craft of acting and performing and used these as the central way of interpreting his philosophy as a whole."
Though he concedes that some may disagree, he believes Kierkegaard saw theatric philosophical performance as a way to involve and inform the public.
"He thought that's what philosophers should be doing — dramatically addressing the day's issues," said Stock, likening the philosopher to an early version of Stephen Colbert.
At the Kierkegard Center, all of its namesake's writings — including published and unpublished works, and three books of notes — are collected in 28 volumes, along with another 28 volumes of criticism of those works. Stock researched many of those original sources in developing his theory.
"I was working with material that, in a lot of ways, hasn't seen the light of day," he said, noting much of it, written in pre-20th-century Danish, had not been translated into English.
While in Denmark, Stock conducted research outside the center, visiting the Court Theatre Museum and historic Royal Theatre to research the 19th-century theatre practices that would have been in effect during Kierkegaard's lifetime. The experience was eye-opening.
"The actors who are mentioned in Kierkegaard's notebook, I saw pictures of them and learned about their roles in the threatre," he said.
He also met with officials and philanthropists to learn about the country's national arts funding model and worked with theatre students at a local school. In addition, Stock led project seminars with approximatly 25 other researchers and gave a public presentation on "The Theatre and the Dead: On the Work of Recollection Between Aesthetics and Religion."
"The two main influences in Denmark at that time were the church and the theatre, and everyone belonged to both of them," he said.
This was Stock's second experience at the center. His first came in 2012, when he presented a paper there at a symposium that drew 50-60 Kierkegaard scholars from around the world.
Following his presentation, Dr. Jon Stewart, associate professor at the center, invited him to submit articles for the organizaton's Kierkegaard Research series. Stock plans to use those articles — the most recent one slated for publication in 2015 — as the basis for a book on Kierkegaard and the theatre.
He first became interested in Kierkegaard while reading his works during his first philosophy class some 18 years ago.
For more information call 410-543-6030 or visit the SU website at www.salisbury.edu.