SU's Ravizza Develops Symposium for International Convention on Sport
Thursday October 20, 2016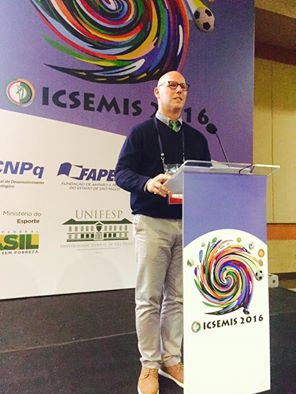 SALISBURY, MD---The 2016 Summer Olympics took Dr. Dean Ravizza of Salisbury University's Health and Sport Sciences Department to Brazil — but not as a competitor.
Ravizza was asked to develop a symposium for the International Convention on Science, Education and Medicine in Sport (ICSEMIS) related to his work on the uses of sport in humanitarian emergencies. The Convention is a joint scientific effort of the world's four leading organizations on sport, and is held every four years in conjunction with the Olympic and Paralympic Summer Games. Attracting some 2,000 participants, this year's event was in Sao Paulo, just a few hours south of the action in Rio de Janeiro.
Ravizza, who also is a senior research practitioner for SU's Bosserman Center for Conflict Resolution, presented on "Promoting Social Inclusion through Sport for Children and Youth in Armed Conflict."
"I gave a personal account of the impact of sports on the overall psycho-social well-being of one land-mine survivor in his native Afghanistan in his quest to participate as a wheelchair basketball participant in the Paralympic Games," Ravizza said. He also detailed other key components of his research and fieldwork focused on children and youth formerly associated with armed groups.
Ravizza spoke as part of the broader symposium he developed on "The Uses of Sport and Physical Activity as Psycho-Social Support for Children and Youth in Crisis." Other presentations explored the applications of sport in a range of situations including the recent refugee crisis in Europe and following natural disasters, as well as for individuals with disabilities as a result of crisis.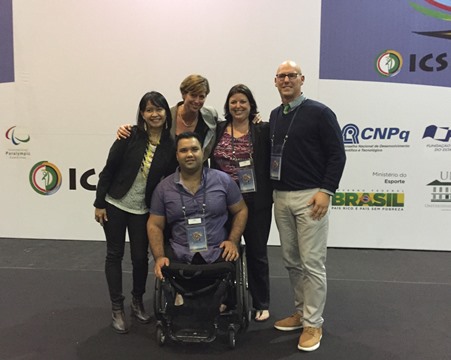 Ravizza organized the symposium over eight months, soliciting the involvement of colleagues from Germany, the Philippines, Australia and Afghanistan. He chaired the event and moderated a concluding panel with audience questions.
Convention organizers praised the unique approach of the uses of sports in such impactful contexts and noted that with several hundred participants it was one of the most highly-attended events, Ravizza said.
The Convention is organized by the International Olympic and Paralympic Committees, as well as the International Council of Sport Science and Physical Education, and the International Federation of Sports Medicine. Formerly existing as the Pre-Olympic, Pre-Paralympic and Sport Scientific Congresses, this iteration was first held in Beijing, China, in 2008, and in the United Kingdom in 2012.
Ravizza, who joined SU's faculty in 2006, is actively involved in international efforts to use sports as part of holistic intervention methods for children and youth in conflict situations in collaboration with United Nations and non-governmental agencies. He has researched, published and presented extensively on the role of sport in the reintegration of children and youth in such areas as Northern Uganda, South Sudan and the Democratic Republic of Congo. Currently, he is working with the United Nations Refugee Agency to utilize sport as part of holistic resettlement programming for refugees in Berlin, Germany, and Stockholm, Sweden.
Pictured is Ravizza speaking at the Convention and Ravizza (right) with the international symposium team.
For more information, call 410-543-6030 or visit the SU website at www.salisbury.edu.
SHARE