SU's Ratti Gives TED Talk and Wins Gandhi Award
Tuesday February 13, 2018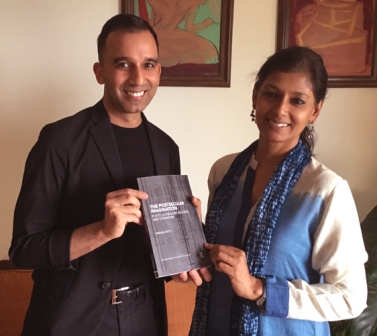 SALISBURY, MD---Dr. Manav Ratti, associate professor of English at Salisbury University, recently delivered a TED talk in Australia's capital, Canberra. He also won a prestigious research award from the Gandhi Ashram, home of Mahatma Gandhi.
His presentation was viewed on YouTube and endorsed by former under-secretary general of the United Nations Dr. Shashi Tharoor and by Nandita Das, one of India's leading actors and directors.
Ratti was invited by the Australian-American Fulbright Commission as one of a handful of Fulbright Scholars to speak at its inaugural TED event, with the theme "Empathy and Transformation."
"I immediately thought of my students at SU, where we discuss global issues of empathy, empowerment and change," he said. "Students often tell me the material changes their perspectives."
Ratti spoke on "Ten Ways to Become a Better Person" before an audience that included the U.S. ambassador to Australia, U.S. embassy staff, and the executive director of the Fulbright Commission. His talk is available for viewing online at https://www.youtube.com/watch?v=0L0zJUSgQvc.
A bestselling author and politician, Tharoor recommended the talk to his six million Twitter followers as a "superb speech" and "wise guide worth following."
Das also endorsed Ratti's presentation on social media. Starring in over 40 films, she has twice served on the jury at the Cannes Film Festival, alongside Javier Bardem, Jane Campion, Salma Hayek and Toni Morrison. Much of her work is dedicated to raising social awareness.
"My students love her films," said Ratti. Das invited the SU professor to her home in Mumbai, capital of the Indian film industry, and to an exhibition opening where she was the guest of honor.
"It was truly exciting," said Ratti, who went on to interview Das and present her a copy of his book The Postsecular Imagination: Postcolonialism, Religion and Literature. Released in 2014, the book has received positive reviews in top-ranked journals and publications, including one of India's oldest newspapers, The Hindu. A South Asian edition is scheduled for publication this spring.
Das' invitation arrived while Ratti was in India on a research fellowship awarded by the Gandhi Ashram. A world-renowned heritage site, museum and archive, the Gandhi Ashram was the home and spiritual haven ("ashram") of Mahatma Gandhi.
With nearly a million annual visitors, the Gandhi Ashram has hosted Queen Elizabeth II, the Rev. Dr. Martin Luther King Jr., Nelson Mandela, the Dalai Lama, and many prime ministers and presidents, including Bill Clinton.
The Ashram is supporting Ratti's research on justice, human rights and the Indian independence movement. He also plans to use his research to further internationalize his SU courses, including Literature of South Asia, Literature of the Global South, and Global Literature and Justice.
"This award allows me to conduct research at a place of living history and to share that inspiration with my students," said Ratti.
The Gandhi Ashram fellowship is Ratti's fourth international research award since coming to SU in 2011. He also has held fellowships at the Australian National University and at Jawaharlal Nehru University in India. In 2016, he won the Fulbright-Royal Bank of Canada Eco-Leadership award, given to twelve scholars throughout the U.S. and Canada.
Prior to joining SU, Ratti served as a Fulbright Scholar at New York University.
For more information call 410-543-6030 or visit the SU website at www.salisbury.edu.