Wednesday, May 4, 2016
SU's Prince Presents at CASE Conference on Diverse Philanthropy and Leadership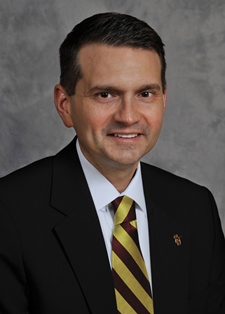 SALISBURY, MD---Dr. T. Greg Prince, Salisbury University vice president of advancement and external affairs, recently presented at the Conference on Diverse Philanthropy and Leadership in Chicago, co-sponsored by the Council for Advancement and Support of Education and the African American Development Officers Network.

With Timothy Minor, vice president of university advancement for the University of North Carolina System, Prince discussed "Recurrent Themes Provided by African American Development Administrators Regarding Career Experience."

They led a discussion on the potential benefit of structured entry-level opportunities for development offices. Their presentation was based on themes that emerged through participant interviews, including the pipeline into the development profession, investment, respect and loyalty, balance, career challenges related to personal demographics, and personal considerations and relational/family issues.

Prince joined SU in 2012, currently leading an advancement division that includes development, alumni relations, marketing, public relations, sports information, publications, a copy center and the University website. He also is executive director of the Salisbury University Foundation, Inc., which holds some $74 million in assets.

He earned his doctorate in educational leadership from East Carolina University in 2015.

For more information call 410-543-6030 or visit the SU website at www.salisbury.edu.