Wednesday, July 5, 2017
SU's Nursing Department Receives Nearly $4 Million in MHEC Grants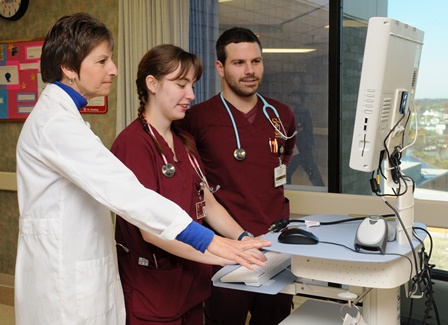 SALISBURY, MD---Salisbury University's Nursing Department has received nearly $4 million from the Maryland Higher Education Commission (MHEC) to develop two new programs.

Some $2 million will go toward creating web-based leadership and communication toolkits for SU nursing students and practicing nurses at several hospitals on the Eastern Shore. An additional $1.8 million will create an online Maryland nurse educator career portal to better connect potential instructors with the state's nursing schools.

The five-year grants represented nearly a quarter of the $17 million awarded by MHEC as part of its Nurse Support Program (NSP) II during this annual funding period. Combined, they mark the most NSP II grant money SU has received in a single period.



"This is absolutely tremendous because of the important work these grants will allow us to do," said Dr. Karen Olmstead, SU interim provost. "I am proud of our Nursing Department faculty and the impact they are having on nursing education throughout the State of Maryland and nationally."

The grants address current needs in nursing, according to Dr. Lisa Seldomridge, SU director of graduate and second-degree programs in nursing, and co-principal investigator (PI) for the grants. Dr. Debra Webster is co-PI for the toolkit grant, titled "Toolkits to Enhance Communication for Nurse Leaders." Dr. Judith Jarosinski is co-PI for the "Maryland Nurse Educator Career Portal" grant. All are faculty in SU's Nursing Department.

"Toolkits to Enhance Communication" will help students develop leadership skills in areas including conflict management, working with diverse populations and advocacy through training and role-playing exercises at SU's Richard A. Henson Medical Simulation Center, Seldomridge said.

Such role-playing also exercises have been successful in helping students learn to work with patients with psychological and mental health issues. The leadership toolkits also will be available to SU's partner hospitals — including Peninsula Regional Medical Center, Atlantic General Hospital, and University of Maryland Shore Regional Health centers in Cambridge, Easton and Chestertown — through a dedicated website for easy access at any time.

"There is a big national push for developing leadership skills early on in nurses' careers," said Seldomridge.

Many of SU's nursing alumni are promoted into leadership positions not long after graduation, and while they generally are successful, they have to learn many of those skills in the field, she added. The goal is for new graduates to be better educated in those areas before they leave SU.

While MHEC does not announce rankings for funded projects, it does provide a list of the most highly recommended proposals—which this year included "Toolkits to Enhance Communication."

The idea for the "Maryland Nurse Educator Career Portal" proposal came as the result of a previous NSP II grant awarded to SU to study Maryland's nursing shortage. Among the imperatives for that grant was expanding enrollment in nursing bachelor's, master's and doctoral programs statewide. Many institutions, however, are facing staffing challenges in meeting that mandate, Seldomridge said.

Working with the Eastern Shore Regional GIS (geographic information systems) Center (ESRGC) at SU and the University of Maryland School of Nursing, Seldomridge and Jarosinski plan to create an interactive map of all nursing schools in the state. Potential nursing educators will be able to use the map to learn about positions at each of those institutions.

While the program will include both full- and part-time faculty needs, the latter is especially important, as many schools have expanded their employment of adjunct faculty in an effort to gain the resources needed to teach additional nursing students, Seldomridge said.

The grant also will fund the creation of a database where those interested in teaching nursing can input their information for access by schools across the state.

A third idea encompassed in the grant is the establishment of an online nursing educator center—starting at SU and ultimately run by MHEC — where potential instructors could go to ask questions such as the difference between full-time and adjunct positions or comprehensive and research I institutions.

Finally, the career portal project will allow the creation of a video marketing piece geared toward encouraging professionals to consider careers in nursing education as early as their 20s and 30s.

"The message would be that you don't have to wait until you're 50 when you might be slowing down and say, 'Well, maybe I'll teach now,'" said Seldomridge. "We want to put a new face on nursing education."

That face, she added, will be authentic, with plans to feature actual Maryland nursing instructors, not actors.

"Toolkits to Enhance Communication" and "Maryland Nurse Educator Career Portal" are the seventh and eighth NSP II grants that the SU Nursing Department has received, totaling more than $8 million since 2009.

For more information call 410-543-6030 or visit the SU website at www.salisbury.edu.