SU's Kotlowski Speaks About Nixon on C-SPAN3 Mar. 4
Monday February 27, 2012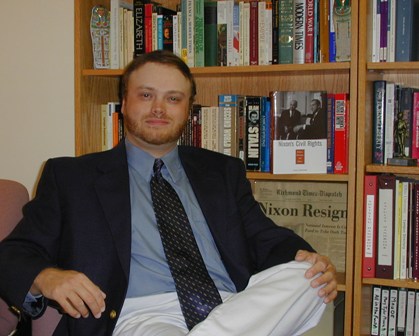 SALISBURY, MD---Dr. Dean Kotlowski of Salisbury University's History Department appears on C-SPAN3 to discuss Understanding Richard Nixon and His Era: Domestic Policy Sunday, March 4.
The hour-long program was filmed during a panel discussion, which included Kotlowski, at the Richard Nixon Library and Birthplace in Yorba Linda, CA. It airs at 8:30 a.m., with repeat broadcasts at 7:30 p.m. and 10:30 p.m. as part of the network's "American History TV" programming block.
Kotlowski has earned critical acclaim for his book Nixon's Civil Rights: Politics, Principle, and Policy, published by Harvard University Press. More recently, he has conducted extensive research into the life and work of former Indiana governor and Franklin D. Roosevelt cabinet member Paul V. McNutt, which Indiana University Press plans to publish as Paul V. McNutt and the Age of F.D.R.
Kotlowski is no stranger to C-SPAN, which previously broadcast an earlier presentation he made at the Nixon Library. He also has been interviewed by National Public Radio and U.S. News & World Report, among others.
For more information call 410-543-6030 or visit the SU Web site at www.salisbury.edu.