SU's Kotlowski Discusses Political Figure Paul McNutt in New Book
Wednesday January 28, 2015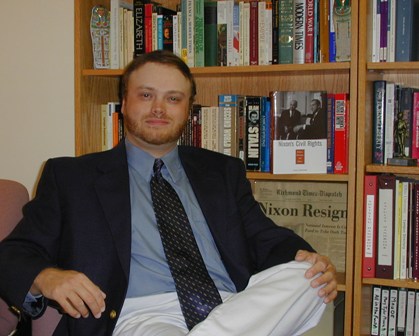 SALISBURY, MD---Had history turned out a bit differently, Paul McNutt might have had his turn in the Oval Office.
As governor of Indiana (1933-37), McNutt became a heavy favorite for the Democratic presidential nod in 1940 — until Franklin D. Roosevelt secured an unprecedented third nomination.
That's not to say the Indiana native did not make his mark, however. Dr. Dean Kotlowski, professor of history at Salisbury University, reflects on McNutt's life and contributions to history in his new book
Paul V. McNutt and the Age of FDR
from Indiana University Press.
Based on research in more than 300 archival collections, Kotlowski has produced three studies in one: a biography of McNutt, a reexamination of FDR and his era, and a meditation on writing political history from the view of non-presidential figures. Leading historians in the United States and United Kingdom have praised the work as "massively researched," "engaging," "masterly," "definitive" and "a must for anyone interested in FDR and his times."
"Although McNutt never became president," said Kotlowski, "he was a presence on the national political stage from the late 1920s until his death in 1955. During the first half of the 20th century, few politicians possessed a more diverse résumé."
As governor, McNutt controversially reorganized the state government, overhauled the tax system, and built a powerful political machine, all the while implementing a "Little New Deal" in Indiana. Supporters praised his youth, dynamism and Hollywood-style looks. Detractors denounced his preening vanity and fierce ambition while tagging him "the Hoosier Hitler."
Although Roosevelt and McNutt had a sometimes contentious relationship, McNutt earned an appointment as high commissioner to the Philippines in 1937. The post was mostly ceremonial, but it allowed McNutt to play a pivotal role in opening the island nation to some 1,300 Jewish refugees fleeing fascism in Europe in the late 1930s.
In 1939, McNutt was appointed as head of the new Federal Security Agency, fore-runner of the current Department of Health and Human Services, from which he managed a number of Roosevelt's "New Deal" programs, including Social Security, and oversaw the U.S. government's top-secret biological warfare program in World War II. Three years later, he also supervised labor planning for agriculture, industry and the military as chair of the War Manpower Commission.
Following World War II, President Harry S. Truman re-appointed McNutt as high commissioner to the Philippines. He became the first U.S. ambassador to the country once it was granted independence in 1946. He retired from political life in 1947.
"While he remained a secondary political figure — that is, someone above the grunts and below the greats — there is one compelling caveat in his biography," said Kotlowski. "McNutt was that rare public official who had positioned himself to reach the top of the political pyramid."
McNutt is the second political figure Kotlowski has studied extensively. In 2001, Harvard University Press published his book
Nixon's Civil Rights: Politics, Principle and Policy
which received critical acclaim and established Kotlowski as a leading expert on President Richard Nixon. He has appeared on C-SPAN multiple times during panel discussions and lectures filmed at the Richard Nixon Library and Birthplace at Yorba Linda, CA, as well as at SU.
In addition to his work at SU, Kotlowski has taught American studies in the Philippines as a U.S. Fulbright Scholar at De La Salle University in Manila. He also has delivered lectures in 18 countries and has served as a presidential history expert for a range of high-profile outlets including National Public Radio and
U.S. News & World Report
, among others.
For more information call 410-543-6030 or visit the SU website at www.salisbury.edu.