SU's King Discusses 'Double Consciousness in the New Millennium' Thursday, February 23
Thursday February 2, 2012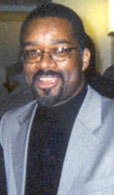 SALISBURY, MD---Salisbury University's African-American History Month celebration culminates with the talk "Double Consciousness in the New Millennium" with Dr. James King of SU's English Department 4 p.m. Thursday, February 23, in the Wicomico Room.
King investigates the philosophical groundings of NAACP co-founder W.E.B. Du Bois' concept of "Double Consciousness." The sociologist and civil rights leader popularized the term in 1903, writing in his book The Souls of Black Folk, "It is a peculiar sensation, this double consciousness, this sense of always looking at one's self through the eyes of others, of measuring one's soul by the tape of a world that looks on in amused contempt and pity."
The book was Du Bois' response to racial violence of the era, as well as the 1896 landmark U.S. Supreme Court case Plessy v. Ferguson, which upheld the constitutionality of state laws regarding "separate but equal" accommodation in private business.
Sponsored by the Multicultural Student Services Office, admission is free and public is invited. For more information call 410-548-4503 or visit the SU Web site at www.salisbury.edu.
SHARE