SU's Horton Earns Prestigious MPT 'Outdoors Maryland' Award
Friday May 11, 2012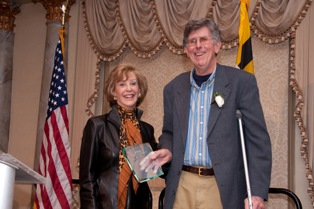 SU's Tom Horton receives his Outdoors Maryland Award from MPT host Rhea Feikin.
SALISBURY, MD---For more than four decades, Tom Horton has been a driving environmental force in Maryland and the Chesapeake Bay.
Maryland Public Television recently honored Horton, adjunct faculty in Salisbury University's Environmental Studies Program and English Department, with its prestigious Outdoors Maryland Award for Stewardship of the Environment.
The accolade came during MPT's 2012 Vision Honors ceremony, which also lauded Dr. Nancy Grasmick, retired Maryland State Superintendent of Schools, and Jeff Salkin, host of MPT's Direct Connection public affairs show and anchor for its State Circle political commentary program.
A native of Maryland's Eastern Shore, Horton covered the environment for The Baltimore Sun for 32 years from 1972-2004 before leaving to become a freelance reporter and author. He has written seven books, including Bay Country, winner of the 1988 John Burroughs Award for the year's best book of nature writing.
His book Swanfall, written for young readers about the ecology and lifecycle of the tundra swan, won the John Burroughs Medal. His articles have appeared in National Geographic, Rolling Stone, The New York Times Magazine and Smithsonian, among others.
The Sierra Club called him "one of this country's most effective and profound environmental reporters" upon presenting him with its noteworthy David Brower Award. Other honors have included the Scripps Howard Newspapers Meeman Award, the National Wildlife Federation's Communication of the Year Award and the Chesapeake Bay Foundation Conservationist of the Year Award.
At SU, Horton has pioneered a one-of-a-kind experiential kayaking course with adjunct faculty member William Nelson. The five-week summer class allows students to meet with experts in nearly every facet of the Chesapeake Bay while receiving a hands-on, "water's-eye view" of the natural resource.
In 2011, he appeared on the MPT show for which his award is named, Outdoors Maryland, leading film crews on a similar kayak tour of the Chesapeake with friend Don Baugh of the Chesapeake Bay Foundation. The segment, "The Sacred Places," won a regional Emmy Award for Best Magazine Program Feature.
For more information call 410-543-6030 or visit the SU Web site at www.salisbury.edu.
SHARE