SU's Conley Earns Silver Medal Award in ACF Competition
Friday July 15, 2011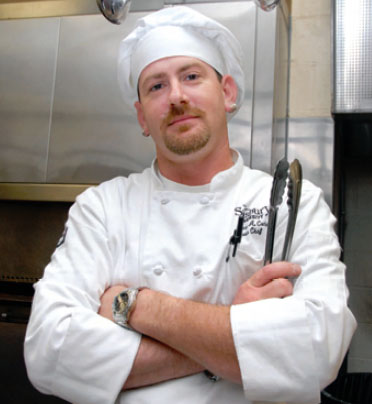 SALISBURY, MD---To the average viewer, American Culinary Federation (ACF) competitions may seem a lot like the Food Network's Iron Chef.
The biggest differences? There are no viewers … or cameras or lights—not even an ever-present commentator. Chefs are left to focus on what matters most: the food.
Matt Conley, a sous chef in Salisbury University's Dining Services, recently was part of a silver medal-winning team at an ACF competition held during the 17th annual Tastes of the World Chef Culinary Conference in Amherst, MA.
Unlike traditional competitions, each dish is graded individually, earning gold, silver or bronze based on its own merit rather than competing against others. Though this was Conley's fourth medal, it was his first silver—a personal best "for now."
On the second-to-last day of the conference, teams are given a "mystery basket" of items to be used in creating their competition recipes. From there, they have one hour to decide what dishes they plan to make and determine whether the ingredients they need are on hand in the conference's community storeroom.
The competition takes place as the culminating event the next day. Conley's team—one of 17 overall—created a salad, appetizer and main entrée for four, as well as a buffet-style meal for 12. The team was judged on how well its members worked together, as well as presentation, nutritional balance, creativity, flavor, texture and service.
Though he enjoys the competitive spirit, Conley said there was much more to the conference.
"It gives me a chance to meet new people in the business and see a variety of new techniques," he said, adding that this year, he especially enjoyed visits to nearby farms.
He plans to bring some of those trends and techniques back to the kitchens at SU, including creating meals with less sodium, using more organic items and sourcing more ingredients locally.
For more information call 410-543-6030 or visit the SU Web site at www.salisbury.edu.