Friday, September 28, 2007
SU's Colleges Against Cancer Chapter Named National 'Rookie of the Year'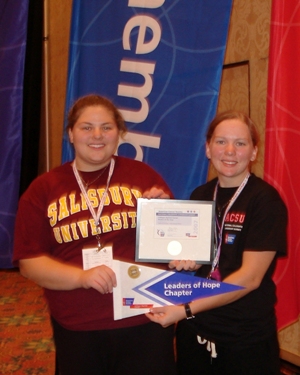 SALISBURY, MD---The American Cancer Society named Salisbury University's Colleges Against Cancer (CAC) chapter national "Rookie of the Year" at its recent National Collegiate Leadership Summit.
From a "Girls Night Out" for breast cancer awareness to a Relay For Life bistro dinner, SU's chapter "raised the bar" with innovative activities during its first year, according to the society. The University was also one of only 20 "Leaders of Hope" chapters nationwide, recognized for volunteerism, and participation in conference calls and the CAC online community.
"There were over 150 rookie chapters last year and they all did amazing things, so to be named the best was a great honor," said SU senior Julie Bayer, president of SU's CAC chapter. She also serves on the 2007-2008 National Leadership Team for Colleges Against Cancer.
Bayer helped plan the September conference in Dallas, TX, which was also attended by junior Samantha Klenkel, SU's CAC Advocacy co-chair.
"These awards set a high standard for SU's CAC chapter," Klenkel said. "This year we will have to work hard to make things bigger and better. Hopefully it also means more student involvement and an increased awareness about the importance of early detection, honoring survivors and the value of students' voices regarding health care and the government."
Some of SU's accomplishments last year included a successful Relay For Life that raised more than $100,000 with 85 teams and nearly 900 participants. The award also noted the chapter's partnership with campus departments, including marketing students on the "Girls Night Out" event and the Athletics Department, which matched and donated all admissions from a men's basketball game to SU's Relay.
SU's CAC chapter also collected more than 250 petitions for the Smoke-Free Maryland effort, which Bayer shared in Annapolis during testimony before both the State Senate and House of Delegates.
With this year's motto of "Celebrate, Remember, Fight Back," Klenkel said CAC is already excited for upcoming projects, including Breast Cancer Awareness Week October 22-26 and the Great American Smoke-Out in November.
For more information, call 410-543-6030 or visit the SU Web site at www.salisbury.edu.