Thursday, March 14, 2013
SU's Carayon Earns Prestigious John Carter Brown Library Fellowship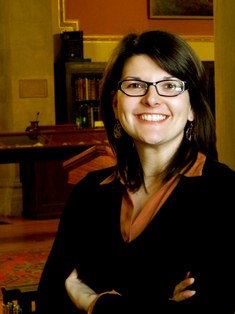 SALISBURY, MD---For academic researchers, receiving the John Carter Brown Library Fellowship can be like winning the lottery — only the wealth of the prize is measured in knowledge.

If that's the case, Dr. Céline Carayon of Salisbury University's History Department has hit the jackpot.

Carayon is currently conducting research at Brown University in Rhode Island as one of 42 scholars nationwide selected for the prestigious honor during the 2012-13 academic year. Carayon received one of the few long-term fellowships this year, an award co-sponsored by the National Endowment for the Humanities and InterAmericas fund in coordination with The Reed Foundation.

She hopes to use her research to further prepare her manuscript Beyond Words: Nonverbal Communication and Culture Change in the Early French-Indian Atlantic, c. 1500-c. 1700. She said the library's renowned collection of rare editions provided a treasure trove of knowledge: "Some of the books there only have one or two other copies left in the world."

"Dr. Carayon's scholarship is part of a national and international dialogue advancing our understanding of relationships and events that have been formative in the North American experience," said Dr. Pereboom, dean of SU's Charles R. and Martha N. Fulton School of Liberal Arts. "It is very exciting for our community, and especially inspiring for our students, to share in that conversation."

The early American history scholar came to SU last fall, teaching Native American and Colonial history. She said she appreciated the support Pereboom and other SU administrators showed in allowing her to take advantage of the fellowship, even after having spent only months at Salisbury.

Carayon is scheduled to spend eight months in Rhode Island. The fellowship reimburses SU for her time away and offers a room for rent in the Fiering House, a residence for scholars working at the library. As a Brown Library Fellow, she also has full access to research libraries at other well-known New England campuses, including Harvard and Yale universities.

"It's the ideal place to pursue research and write because everything is centralized," she said.

She plans to submit her completed manuscript to publishers at the end of the fellowship. In addition, she is preparing several lectures and will speak as part of the John Carter Brown Library Fellows Lunch Talk Series later this spring. In April, she also is participating in the interdisciplinary colloquium "Rethinking Land and Language: Dialogues in Early American and Indigenous Studies" at Columbia University in New York.

John Carter Brown was the son of Brown University's namesake, Nicholas Brown Jr. He collected thousands of American books in the mid-19th century, a tradition continued by his son, John Nicholas Brown, who left funds for the library's construction and willed it to be built within four years of his death in 1900.

For more information call 410-543-6030 or visit the SU Web site at www.salisbury.edu.