Thursday, April 18, 2013
SU to Open Downtown Salisbury Art Gallery Apr. 27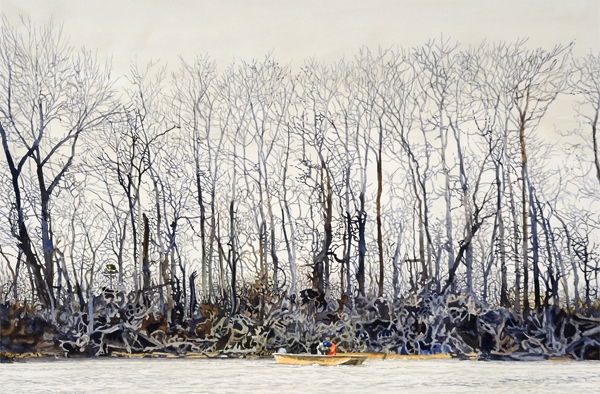 Eastern Shore artist Marc Castelli's works ("Fishing Fykes on the Skeleton Coast/Chester River," watercolor, pictured) are exhibited through the U.S. State Department's Art in Embassise Program at ambassadors' residences in Brazil, Qatar and Madagascar, and through the U.S. Information Service at shows in India and Oman. Connecticut's Mystic Maritime Museum Gallery has recognized him as a "Modern Marine Master." His paintings are among those planned for display at the Salisbury University Art Galleries' Downtown Campus this summer.

SALISBURY, MD---Salisbury University will join the city's growing downtown arts community when it opens its new gallery there on Saturday, April 27, during the annual Salisbury Festival.

"The University is excited by the potential of such a presence," said SU President Janet Dudley-Eshbach. "We hope the art exhibits will attract more students and other visitors, who, in turn, will explore the neighborhood and enjoy what downtown businesses, shops and other artists have to offer. A vital, attractive and prosperous downtown benefits us all."

Located at 118 N. Division St., opposite the city's emblematic Victorian courthouse, the Salisbury University Art Galleries Downtown Campus will offer some 2,000 square feet of exhibit space, similar in size to the University Gallery in Fulton Hall, said Elizabeth Kauffman, SU Art Galleries director. For festival weekend, an "Art War" competition will challenge artists to complete an artwork during a five-hour period while festival visitors watch. The winner will be offered a solo exhibition at a later date.

In May and June, an exhibit showcasing the work of regional emerging artists will be held. The art of Marc Castelli of Chestertown, MD, as well as others included in the "This Land" exhibition, will be featured in July. Exhibits will continue as the academic year begins in August.

The summer hours for the downtown gallery are noon-6 p.m. Wednesday-Saturday. In the fall, hours switch to noon-6 p.m. Tuesday-Friday and noon-4 p.m. Saturday. The space is closed all other times and days, but the Galleries welcome visitors, patrons, class groups and others to make appointments for special viewings.

Dr. Maarten Pereboom, dean of the Charles R. and Martha N. Fulton School of Liberal Arts, who has written a white paper on the potential benefits of University arts programs on urban revitalization, said "a synergy develops when the arts are concentrated in a downtown neighborhood." At this year's Salisbury Festival, for example, other visual artists, as well as those in music and theatre affiliated with the Fulton School, will perform, and festival goers will take in multiple events. "Other campuses, such as the University of North Texas, have created successful arts spaces in their downtowns," he added.

.: Related Sites :.

.: Related News :.

"The Salisbury Festival supports dozens of non-profits as well as local schools and individual businesses," said Shannon Mitchell, events director for the Salisbury Area Chamber of Commerce. "We appreciate the SU partnerships. One of the wonderful things about the new gallery is that it will be here for next year's Salisbury Festival, as well!"

Last spring the SU Art Galleries put its toe in the downtown waters when it opened a "TempArts" gallery at the same address during the 2012 Salisbury Festival. Exhibits continued through May's Third Friday event. Made possible by a project grant from the Salisbury Wicomico Arts Council, "We were very pleased with the results then," said SWAC executive director Therese Hamilton. "It's a win for everyone when you bring youth, the University, downtown and the arts together."

"It is exciting to have the Salisbury University Gallery as part of the growing arts community in the city's Arts & Entertainment District," said Lee Whaley, co-founder of the district committee.

"The gallery joins our other valued arts venues in working to revitalize our historic downtown," added Ray Vorus, committee chair. "This is another example that investing in Salisbury is a smart move."

Susan Holt, who teaches in SU's Art Department, has worked with university and public school students in a decade-long partnership with the City, Maryland State Highway Administration and others on a series of metal sculptures along downtown roadways. "It's important to bring students downtown—on a regular basis," she said. "It gets a new energy down there. This is absolutely great news."

For more information call 410-543-6030 or visit the SU Web site at www.salisbury.edu.