Wednesday, November 19, 2008
SU Wins ACSM Mid-Atlantic Regional Quiz Bowl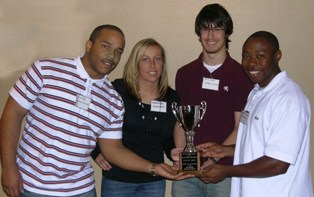 Pictured from left: winning team members Errol Silva, Brittany Collins, Chris Wolff and Bernard Parker
SALISBURY, MD---What is the rate-limiting enzyme in glycolysis?
A team of Salisbury University exercise science majors successfully answered this question (phosphofructokinase) and many others just as difficult to win this year's American College of Sports Medicine (ACSM) Mid-Atlantic Regional Chapter Quiz Bowl.
SU students Brittany Collins, Bernard Parker, Errol Silva and assistant Christopher Wolff bested teams from West Chester, Bloomsburg, East Stroudsburg, Slippery Rock and Syracuse universities, and Cabrini College to capture the title.
As regional champions, the SU students will have the opportunity to take on 11 other regional teams at the national Quiz Bowl during the 56th annual ACSM meeting in Seattle next May.
For more information call 410-543-6030 or visit the SU Web site at www.salisbury.edu.