Thursday, February 23, 2012
SU Theatre Presents 'The Play in August' Sunday, February 26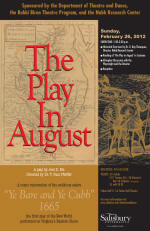 SALISBURY, MD---Every American history book contains a chapter on the Revolutionary War. Protests by American colonists against Great Britain, however, started long before 1775.

On August 27, 1665, a group of brave colonial actors risked the wrath of Virginia's strict colonial government to present the political satire Ye Bare and Ye Cubbe at Fowkes' Tavern in Pungoteague, VA. The witty look at the colonies' relationship with Great Britain became the first recorded play performed in English America.

Salisbury University's Bobbi Biron Theatre Program revisits that daring act during a one-performance-only production of theatre historian Joel Eis' The Play in August. Directed by Dr. T. Paul Pfeiffer, the program's artistic director, curtain is 2 p.m. Sunday, February 26, in the Black Box Theatre of Fulton Hall.

The original play defied nearly every convention of its time, being performed on a Sunday in a tavern during a drought at a time when acceptance of all colonial policies was demanded without question. Yet, the colony was plagued with religious, political, social and economic strife, a combination that, in England, had led to the regular use of the stage as a way to show criticism of the government.

Dr. Ray Thompson, professor of history and director of SU's Edward H. Nabb Research Center for Delmarva History and Culture, introduces the play in a historical context at 1:30 p.m. in Fulton Hall Room 111. An afterglow discussion with Eis and Pfeiffer follows the performance.

Sponsored by the Department of Theatre and Dance, and the Nabb Research Center, admission is $15, $12 for seniors age 60 and over, $12 for SU alumni and non-SU students, $5 for SU ID holders.

For advance tickets, visit the Department of Theatre and Dance Web site at www.salisbury.edu/theatreanddance and click on "2011-2012 Season" or visit the SU Box Office, Fulton Hall Room 100. Box office hours are 10 a.m.-4 p.m. Monday-Friday.

For more information call 410-548-5588 or visit the SU Web site at www.salisbury.edu.