Thursday, September 15, 2016
SU Theatre Presents 'The Country Wife' October 6-9, 13-16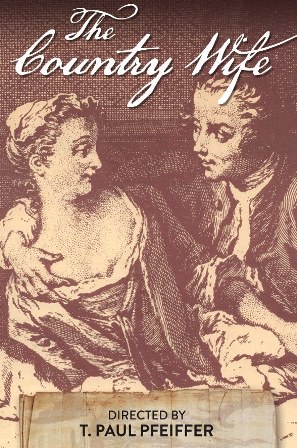 SALISBURY, MD---Salisbury University's Bobbi Biron Theatre Program presents William Wycherley's Restoration comedy The Country Wife Thursday-Sunday, October 6-9 and 13-16, in the Black Box Theatre of Fulton Hall.

Curtain is 8 p.m., 2 p.m. Sundays. Dr. T. Paul Pfeiffer of the Music, Theatre and Dance Department, directs.

Written in 1675, the play was—and still is—controversial for its sexual explicitness. Its plot and language kept it off stage and out of print from 1753-1924. Based on the plays of Molière, the production follows three plots.

Harry Horner, a rakehell (womanizer), feigns impotence to convince many of London's upper-class men that their wives are safe with him. Unbeknownst to them, the rumors he spreads about himself are meant to aid in a mass seduction campaign, and he carries out and alludes to many affairs throughout the play, cuckolding their husbands.

Mr. Pinchwife, meanwhile, marries a naïve country girl, Margery, in hopes that she will have neither the knowledge nor the desire to cuckold him. Horner, however, proves to be a foil to Pinchwife's plans, and Margery becomes very interested in the sophisticated 17th-century culture of sexual relations. Her country-girl instincts, set against the backdrop of London's upper class, are played for laughs in the production.

Further tying together the main characters are Mr. Harcourt, a friend of Horner, and Miss Alithea, Pinchwife's sister. While Alithea has feelings for Harcourt, she refuses to act on them, as she is engaged to the shallow Sparkish. Caught in an unexpectedly compromising situation with Horner, she ultimately choses Harcourt when Sparkish expresses doubts about her virtue.

"The one aspect of the play we want people to take away from the production is the cynicism about human nature and traditional morality which is (perhaps more apt in an election year) strangely familiar (if those two words make sense together) to us in the 21st century," said Pfeiffer. "Restoration comedies, whilst based on French models, did explore London society with more bite and also more wit.

"With a strong grasp on the principles of Machiavelli, the characters — like their real-life models — applied intelligence and a keen observation of human weaknesses to achieve their goals. 'The ends justify the means' is the credo in which the true hero is the one who manages to outmaneuver all competitors. Wycherly uses sexual escapades as the mode of expression to very comic turn — but the cynical principles of survival remain no matter the goal — and that is what makes the play continue to resonate 341 years later."

The play has earned critical acclaim throughout the years.

"Wycherley's world is one dominated by class, caste and money; where liars and cheats thrive; where those who are lied to and cheated connive with the villains rather than lose face; where those without power must learn to lie to survive; where violence is not just personal, but structural," wrote Clare Brennan for London's The Guardian. "Does it not sound familiar?"



The New York Times' Howard Taubman agreed: "This Restoration comedy is no period piece. The language and the costumes may be remote, but the false airs, affected manners and elaborate insincerity of the characters describe large segments of any society, including ours."

The cast includes Zach Williams as Horner, Alli Payne as Margery Pinchwife, Dan Frana as Dr. Quack, Marshall Bailey as Harcourt, Dawson Forbes Hill as Dorilant, Michael Mitchell as Sparkish, Andreas Roa as Sir Jasper Fidget, Maddie Webb as Lady Fidget, Caroline Lewis as Mrs. Dainty, Veahna Gardineer as Mrs. Squeamish, Ide Owodiong-Idemeko as MR. Pinchwife, Megan Murphy as Alithea, Quincey Jennings as Lucy, Ben Astarb as Horner's Boy and Caitlin Jennings as Old Lady Squeamish. Street Vendors and Shifters are played by Brandon Mahler, Jake Thereault, Shane Love and Brent Silvestri. Alyssa Kerley, Caitlin Nilo, Quincey Jennings and Alexandra Roland portray the Orange Wenches of the Theatre.

Scenic assistants are Eleni Lukaszczyk, Henry Loomis, Alexis Williams, Nick Thomas and Rebecca Rybczynski. Assistant lighting designer is Madeline Stiso. Associate lighting designer is Ryan Bailey. Samantha Olsen stage manages. Assistant stage managers are Bailey Kirk and Brent Sylvestri.

The play is for mature audiences only. Admission is $12, $9 for seniors, students and SU alumni with ID. Tickets are available online at www.salisbury.edu/theatreanddance. Tickets also may be purchased through the SU Box Office, Fulton Hall Room 100. SU ID holders receive one ticket free for Thursday performances with advance reservations.

For more information call 410-543-6228 or visit the SU website at www.salisbury.edu.